'The First Purge' Trailer: Learn How The Night Of Anarchy Began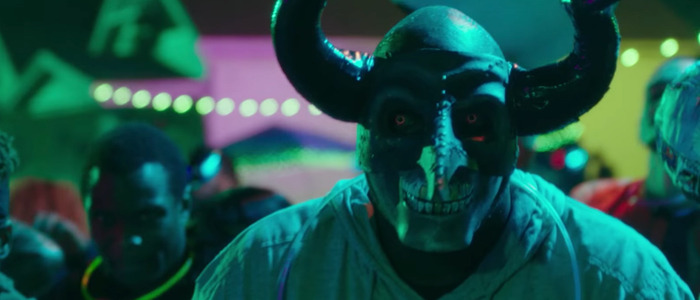 The First Purge trailer is here, offering up an intense glimpse of how America's one long night of lawlessness began. This fourth entry in the Purge franchise serves as a prequel, and has the added bonus of featuring Marisa Tomei! Watch The First Purge trailer below.
I never would've imagined that Marisa Tomei invented The Purge, but here we are. The trailer for Blumhouse's The First Purge offers up an action-packed look at the new Purge prequel, which shows how the night of anarchy and violence all began. This latest take looks significantly different than the Purge films that came before it. It's up to you to decide if that's a good thing or not! See for yourself.
The First Purge Trailer
I like The Purge franchise...in theory. The concept is solid, I just wish the films were a bit more inspired. This seems like the sort of concept that someone like John Carpenter could knock out of the park. Alas, he's not really making films anymore, as he's content to sit around playing video games all day. Good for him, he's earned it.
This trailer makes The First Purge look a lot different than the films that came before. I suppose that makes sense, since this is a prequel. Still, this trailer seems firmly rooted in the action movie genre – it's almost as if they've abandoned the horror movie elements of the series completely. All that aside, I'm pretty thrilled to see Marisa Tomei here – she's a fantastic actress, and the more roles for her, the better.
The First Purge also stars Y'Lan Noel, Lex Scott Davis, Joivan Wade, and Luna Lauren Velez. Gerard McMurray directs with a script by James DeMonaco, the writer/director of The Purge, The Purge: Anarchy and The Purge: Election Year. 
If you need even more Purge action, you're in luck. This film isn't the only Purge material headed your way. There's also a Purge TV show currently in development.
The First Purge hits theaters on July 4, 2018.
Behind every tradition lies a revolution. Next Independence Day, witness the rise of our country's 12 hours of annual lawlessness. Welcome to the movement that began as a simple experiment: The First Purge. To push the crime rate below one percent for the rest of the year, the New Founding Fathers of America (NFFA) test a sociological theory that vents aggression for one night in one isolated community. But when the violence of oppressors meets the rage of the marginalized, the contagion will explode from the trial-city borders and spread across the nation.