'Solo: A Star Wars Story' Set For Cannes Film Festival Premiere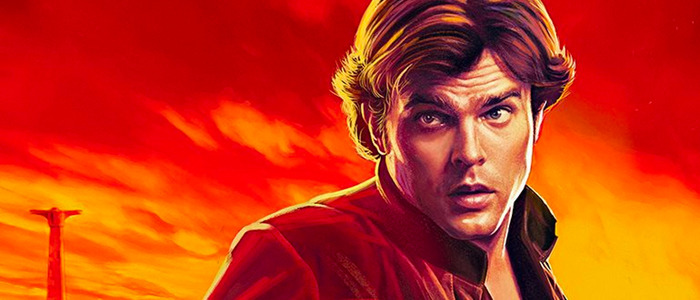 The Cannes Film Festival likes to act like they're super high-brow, but they're not above throwing a bone to a popcorn movie or two. Case in point: this year, Ron Howard's Solo: A Star Wars Story will make its debut at the prestigious festival. More on the Cannes Film Festival Solo premiere below.
The Cannes Film Festival is approaching. From May 8 through May 19, filmmakers, movie stars, and lowly journalists will descend upon the French Riviera to experience several highly anticipated films. And this year, there's a surprise addition. Deadline reports that the latest Star Wars spin-off film, Solo: A Star Wars Story, will make its debut at this year's festival. Cannes will host a special screening of the Ron Howard-directed film on May 15, before the film is released wide on May 25, 2018. I sincerely hopes this means we'll see Chewbacca on the Cannes red carpet.
Cannes has a bit of a reputation for snobbery. For instance, this year they've banned Netflix films entirely. "Last year, when we selected these two films, I thought I could convince Netflix to release them in cinemas," Cannes festival head Theirry Fremaux said. "I was presumptuous, they refused." Fremaux added: "The Netflix people loved the red carpet and would like to be present with other films. But they understand that the intransigence of their own model is now the opposite of ours."
No offense to Fremaux, but that is indeed a snobby-sounding statement. Despite this attitude, Cannes has hosted several surprising films in the past. While Solo may seem like too much of a popcorn movie to play the fest, it's just the latest addition in a long line of surprising festival premieres. Here are some of the most surprising Cannes premieres throughout the years. It's worth noting that almost all of these films screened out of competition.
Creepshow
I had no idea this happened until compiling info for this list, but in 1982, Creepshow played at the Cannes Film Festival. Yes, that's right – the George Romero/Stephen King movie full of slime, bugs, monsters and blood – had a special screening at Cannes.
Dirty Dancing
Dirty Dancing, the film where Jennifer Grey gets some steamy as hell dance lessons from Catskills dance instructor Patrick Swayze, played the Cannes Film Festival in 1987.
Willow 
Solo isn't the only Ron Howard film to hit Cannes. In 1998, Howard's Hobbit-esque adventure flick Willow (based on a story by Star Wars grandaddy George Lucas) played Cannes.
Life Stinks
Mel Brooks made a lot of well known movies throughout his career. One of his lesser-known films is Life Stinks, one of the few Brooks films that isn't a parody. It played Cannes in 1988.
Cliffhanger
Cliffhanger, the Renny Harlin action film that pitted Sylvester Stallone against mountains (and also John Lithgow) screened at Cannes in 1993.
Blues Brothers 2000
John Landis' Blues Brothers 2000, the Blues Brothers sequel no one wanted, debuted at Cannes in 1998.
Shrek and Shrek 2
Cannes loved the Shrek series so much it screened both Shrek, in 2001, and Shrek 2, in 2004. Not only that, but both films were screened in competition!
Star Wars: Episode III – Revenge of the Sith
Solo won't be the first Star Wars prequel to screen at Cannes. In 2005, George Lucas' Star Wars: Episode III – Revenge of the Sith was given a special screening.
X-Men: The Last Stand
The terrible Brett Ratner film X-Men: The Last Stand wowed Cannes-goers in 2006.
Indiana Jones And The Kingdom Of The Crystal Skull
Indiana Jones and the Kingdom of the Crystal Skull, yet another George Lucas-related title, had a Cannes debut in 2008.