'Fahrenheit 451' Trailer: Knowledge Is A Dangerous Thing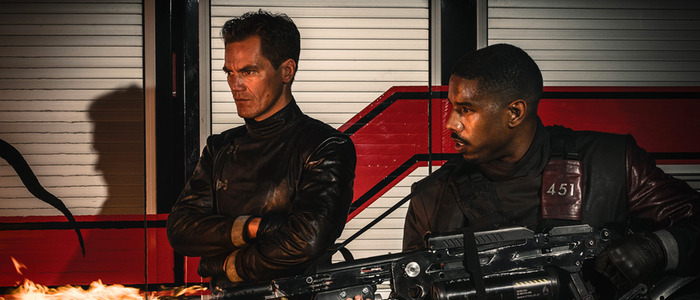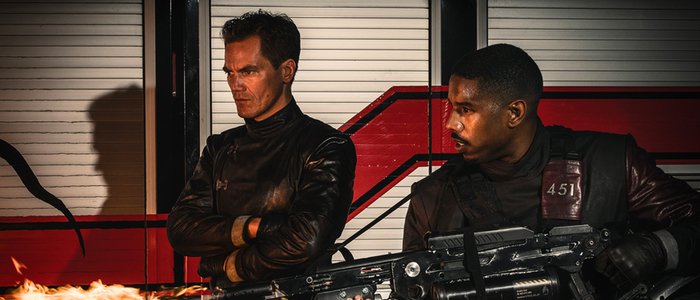 A full trailer for HBO's Fahrenheit 451 has arrived, full of plenty of neon, flames and shots of Michael B Jordan and Michael Shannon looking super intense. Watch the Fahrenheit 451 trailer below.
99 Homes director Ramin Bahrani brings Ray Bradbury's classic novel Fahrenheit 451 to HBO, and here's the full trailer to prove it. This looks intense, and it also looks like it features yet another scene-stealing performance from Michael Shannon. Check it out.
Fahrenheit 451 Trailer
I'm pretty hyped for this. That said, there are some things in here that are a tad derivative. There's an abundance of neon, for instance, which seems to be popular in all future-set entertainment now (see Mute, Altered Carbon and Blade Runner 2049). Then again, Bradbury's book has been highly influential, inspiring multiple films, including the gun-fu extravaganza Equilibrium. It only makes sense that some of the elements on display here seem familiar. That said, this take on Bradbury's book looks stylish and engrossing, and having strong actors like Michael B. Jordan and Michael Shannon as the leads will no doubt pay off.
The film, like Bradbury's novel, is set in a totalitarian future where books are outlawed, and "firemen" are tasked with the job of finding any remaining written works and torching them for the greater good. Michael B. Jordan plays Guy Montag, a young fireman who begins to have serious doubts about his profession. Shannon is his very scary looking boss, Beatty.
"I have always loved Ray Bradbury's prophetic novel Fahrenheit 451," Bahrani said when the project was announced. "Two years ago, as I looked at the world around me, it seemed like the ideal time to do a modern interpretation. I am grateful to HBO for helping me bring my vision of the film to audiences with this incredible cast."
This isn't the first time Fahrenheit 451 was brought to screen. French New Wave filmmaker François Truffaut also helmed an adaptation in 1966. Truffaut's film had a lot less neon, though.
In addition to Jordan and Shannon, Fahrenheit 451 stars Sofia Boutella, Lilly Singh, Laura Harrier, Martin Donovan, Andy McQueen, Dylan Taylor, Grace Lynn Kung and 2001: A Space Odyssey star Kier Dullea. Fahrenheit 451 airs on HBO May 19, 2018.
Starring Michael B. Jordan and Michael Shannon, Fahrenheit 451 is based on Ray Bradbury's classic novel. In a future where the media is an opiate, history is rewritten and "firemen" burn books, Jordan plays Montag, a young fireman who struggles with his role as law enforcer. Battling his mentor, fire captain Beatty, played by Shannon, he forsakes his world in an effort to regain his humanity.