'Generation Wealth' Trailer: Look Upon Our Cultural Excess, Ye Mighty, And Despair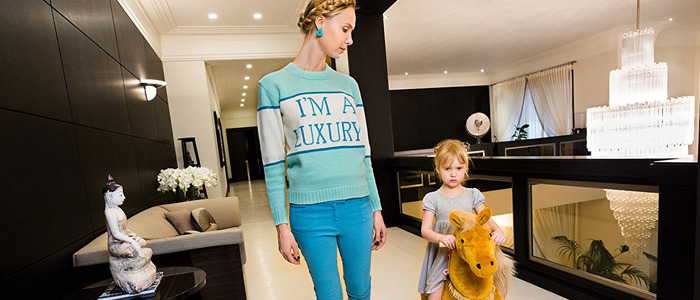 Lauren Greenfield, the filmmaker behind the acclaimed 2012 documentary The Queen of Versailles, is back. Her newest movie, Generation Wealth, is an exploration of materialism, cultural excess, and the perversion and mutation of the American Dream. The film is gripping and horrifying in equal measure. Check out the new Generation Wealth trailer below and see what I mean.
Generation Wealth Trailer
Greenfield is a photographer who's spent nearly three decades documenting wealth in various forms across the globe. This documentary is the culmination of all of that work, as Greenfield attempts to understand society's obsession with money and excess – and her own obsession with it, as well. I saw the doc at Sundance, and while there are spectacular, jaw-dropping moments in it that will make you question everything you think you know about human decency, it's just as much about watching Greenfield's personal journey through this madness as she struggles to come to grips with her own choices in life.
I'd encourage you to read my entire review, but if you're pressed for time, here's the closing paragraph:
Tracing the evolution of the American Dream from valuing frugality and hard work to valuing the enticing but fleeting pleasures of fame and fortune, Generation Wealth provides a sobering reflection of society's addictions, elucidates the unwinnable trap of Gordon Gecko's "greed is good" mentality, and illustrates primal truths about the things that truly matter in life. It's a fascinating and often horrifying tour of ravenous indulgence, and will almost certainly be one of the best documentaries of 2018.
Here's the film's official description:
For the past 25 years acclaimed photographer and filmmaker Lauren Greenfield (The Queen of Versailles, Thin, kids+money, # likeagirl) has travelled the world, documenting with ethnographic precision and an artist's sensitivity a vast range of cultural movements and moments. Yet, after so much seeking and searching, she realized that much of her work pointed at one uniting phenomenon: wealth culture. With her new film, Generation Wealth, she puts the pieces of her life's work together for in an incendiary investigation into the pathologies that have created the richest society the world has ever seen.
Spanning consumerism, beauty, gender, body commodification, aging and more, Greenfield has created a comprehensive cautionary tale about a culture heading straight for the cliff's edge. Generation Wealth, simultaneously a deeply personal journey, rigorous historical essay, and raucously entertaining expose, bears witness to the global boom-bust economy, the corrupted American Dream and the human costs of capitalism, narcissism and greed.
Generation Wealth will arrive in theaters on July 20, 2018.