'Rampage' Early Buzz: Dwayne Johnson Does His Thing In Your Latest Mindless, Loud Guilty Pleasure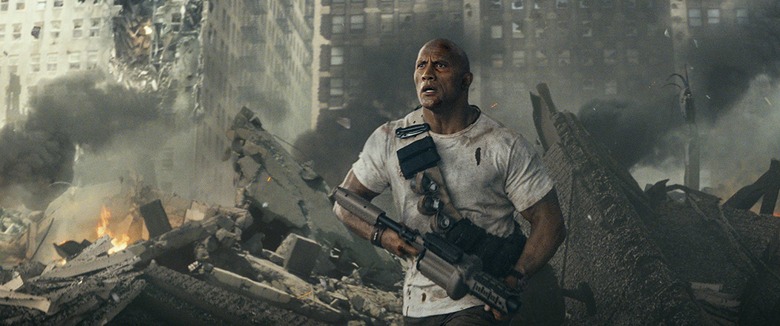 At this point, you know what to expect in a Dwayne Johnson movie. Big explosions, even bigger pecs, and lots of testosterone-fueled male posturing — probably in the jungle, and probably while the Rock is wearing the same khaki shirt he's dragged across five movie sets.
Johnson has nailed a type, and he's got an audience willing to pay top dollar to see him to it again. And from the looks of Rampage, it's very much the same action-packed blockbuster we expect to see from Johnson. But that doesn't mean it's not good.
Below, see the Rampage early buzz.
Rampage held its world premiere in Los Angeles on April 4, with critics and fans alike flocking to the adaptation of the popular '80s arcade game. Its simple, ridiculous premise raised quite a few eyebrows, but after the critical and commercial success of last year's Jumanji: Welcome to the Jungle, critics seem willing to give Rampage a chance.
The early social media reactions were mixed, with many critics acknowledging that this movie is loud and dumb — but praising it for knowing exactly what it is. /Film's Peter Sciretta and Ben Pearson were two of the critics at the premiere who had a somewhat muted response to the film.
#Rampage certainly doesn't break the video game movie curse and has some of the worst villains I've seen on screen this year (and I saw Ready Player One) but it's enjoyable in a disposable sense. I cared more about the Rock/ape relationship than I did the city smashing.

— /Film (@slashfilm) April 5, 2018
#Rampage: This movie is exactly what you think it's going to be. Afterward, a guy near me said to his friend, "That was great. You didn't have to think AT ALL!"

— Ben Pearson (@benpears) April 5, 2018
But reactions ran the gamut. A few critics raved about its overblown premise and escalating action, while others said Rampage had lots of heart.
RAMPAGE is the ultimate guilty pleasure. Brad Peyton has created a big budget B movie & Dwayne Johnson delivers his most outrageous performance to date. #Rampage is the ultimate monster movie and is non-stop campy fun. Did I mention that Dwayne Johnson fights a giant flying wolf? pic.twitter.com/0aFNqnxRl7

— Scott Menzel (@ScottDMenzel) April 5, 2018
#RampageMovie knows exactly what it is and makes no bones about it. Stupid stupid fun, guys. Have some drinks and go see it next week when it comes out. Super entertaining 👍🏼@rampagethemovie

— Marissa Monticolo (@MMonticolo) April 5, 2018
RAMPAGE was a mindless, popcorn action flick, in all the best ways. the VFX looked great, and watching the creatures destroy a full city was pretty awesome. Jeffery Dean Morgan steals the movie, only negative I have is the villain is a little to over the top.

— Skyler Shuler (@SkylerShuler) April 5, 2018
Rampage is ridiculous and fun!

It's a big movie, kind of like Transformers, back in the days when they were pretty good, but with giant monsters.

Rampage embraces what it is visciously well, so that @TheRock and @JDMorgan can be epic on screen! Buckle up. pic.twitter.com/NhtyeuY3eS

— BD (@BrandonDavisBD) April 5, 2018
Rampage is big, loud and fun as hell. Especially touching to see the Harambe in memoriam card during the closing credits. @TheRock's got another massive hit on his hands! #RampageMovie

— One-Armed Bandit (@S_Weinstein95) April 5, 2018
Will #Rampage be eligible for the #Oscars? @TheRock ?
Asking for a friend...

— Jim the Movie Man (@MovieNonExpert) April 5, 2018
As an animal lover, it's hard not to vibe with #RampageMovie's sweet relationship between @TheRock & gorilla George. It's the driving force of the action & its beating heart.

— Courtney Howard (@Lulamaybelle) April 5, 2018
Rampage is directed by Brad Peyton and stars Johnson, Naomie Harris, Malin Åkerman, Joe Manganiello, Jake Lacy, Marley Shelton, and Jeffrey Dean Morgan.Rampage hits theaters on April 13, 2018.
Primatologist Davis Okoye shares an unshakable bond with George, an extraordinarily intelligent, silverback gorilla that's been in his care since birth. When a rogue genetic experiment goes wrong, it causes George, a wolf and a reptile to grow to a monstrous size. As the mutated beasts embark on a p

ath of destruction, Okoye teams up with a discredited genetic engineer and the military to secure an antidote and prevent a global catastrophe.