Monica Lewinsky Season Of 'American Crime Story' No Longer Happening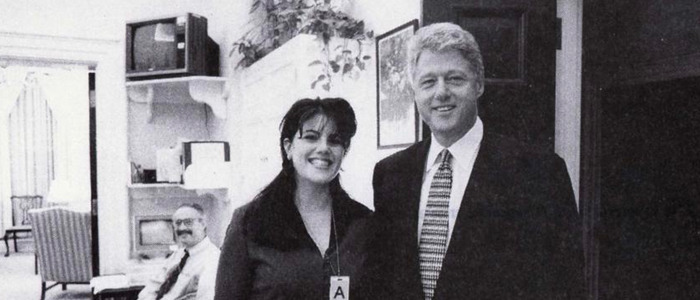 The future of American Crime Story is uncertain, especially after executive producer Ryan Murphy scored a big Netflix deal earlier this year. At one point, there were plans for an American Crime Story season devoted to the Monica Lewinsky/Bill Clinton scandal – but it looks like that's no longer happening. Ryan Murphy confirms that Lewinsky season idea has officially been nixed.
Don't expect to see someone playing Monica Lewinsky on American Crime Story anytime soon. As the true crime-based series mulls it future, plans for a season devoted to the Monica Lewinsky/Bill Clinton scandal have been given the axe by producer Ryan Murphy himself. Speaking with The Hollywood Reporter, Murphy revealed that he had second thoughts about the season because he doesn't think anyone should tell Lewinski's story but Lewinski herself. Murphy actually ran into Lewinski at a party and told her as much:
"I told her, 'Nobody should tell your story but you, and it's kind of gross if they do,'" Murphy recalls saying. " 'If you want to produce it with me, I would love that; but you should be the producer and you should make all the goddamn money.'"
Apparently Lewinski had no interest in producing, and now the season is not moving ahead. This is somewhat surprising, especially since Murphy acquired the rights to Jeffrey Toobin's book Vast Conspiracy: The Real Sex Scandal that Nearly Brought Down a President. Toobin also wrote the book that inspired the first season of American Crime Story, The People vs. O.J. Simpson.
In case you've been living under a rock or are possibly from another planet and are unaware of the details involving the Monica Lewinsky/Bill Clinton scandal, Toobin's Vast Conspiracy deals with the events surrounding President Clinton's affair with Lewinsky – an affair that made tabloid headlines and nearly destroyed the Clinton presidency. Clinton was impeached for lying about the affair, but was eventually acquitted on all charges. Here's the synopsis for Toobin's book:
In A Vast Conspiracy, the best-selling author of The Run of His Life casts an insightful, unbiased eye over the most extraordinary public saga of our time – the Clinton sex scandals. A superlative journalist known for the skillfulness of his investigating and the power of his writing, Jeffrey Toobin tells the unlikely story of the events that began over doughnuts in a Little Rock hotel and ended on the floor of the United States Senate, with only the second vote on presidential removal in American history. This is an entirely fresh look at the scandal that very nearly brought down a president.
The future of American Crime Story is uncertain. Originally, Murphy and company planned a second season focused around the events of Hurricane Katrina. However, the Katrina season was pushed back and heavily reworked, and the real second season became The Assassination of Gianni Versace. One imagines the Katrina season will air next, but beyond that – who knows? Murphy recently signed a huge deal with Netflix, which means he might not have time to spearhead American Crime Story anymore. He can, of course, hand the show off to someone else, but as of now, future seasons of American Crime Story remain in doubt.