Saudi Arabia To Christen Its First Movie Theater With 'Black Panther'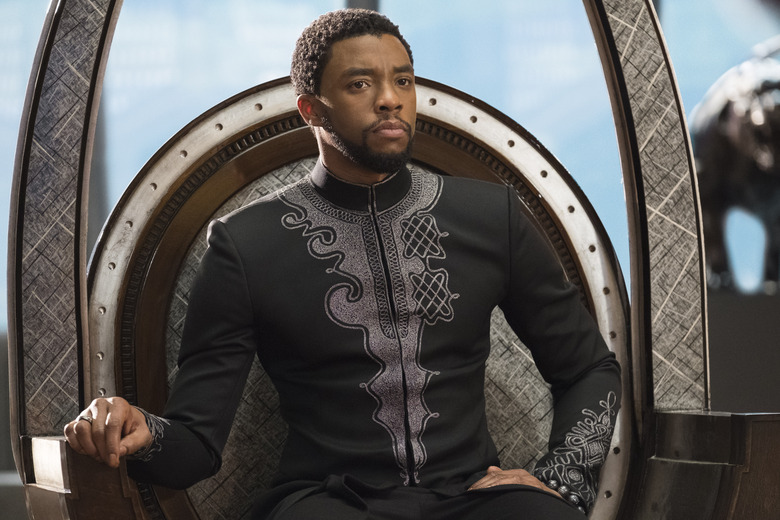 The first Saudi Arabian movie theater is about to open after a 35-year ban on cinemas in the country. But thankfully, it won't be playing The Emoji Movie.
Saudi Arabia will christen the opening of its first official movie theater in two weeks with screenings of Black Panther, the zeitgeist-y superhero movie that may have just added a new formidable market to its record-setting run.
AMC Theatres is set to open the first Saudi Arabian movie theater in Riyadh's King Abdullah Financial District on April 18, according to The Hollywood Reporter.
The theater chain announced on Wednesday that it won the country's first license to operate cinemas alongside its local partner, the Development and Investment Entertainment Company. AMC will convert a standalone symphony concert hall into the country's first movie theater.
"This will be the prettiest movie theater in the world," AMC CEO Adam Aron said, adding that the theater will have a "dramatic" exterior and a beautiful interior with marble bathrooms.
AMC has beaten European operator Vue and luxury chain iPic to the punch, both of which have also announced their intentions to open in Saudi Arabia. Regional chains Cinescape and Vox are planning their expansions.
AMC said it expects to open up to 40 cinemas in 15 Saudi Arabian cities within five years, moving up to 100 theaters in 25 cities by 2030. THR suggests that AMC has been working on this Saudi expansion for a while and were simply waiting for "someone to turn the lights on."
This battle for dominance over Saudi Arabia's theater market is true to early predictions that there would be a "mad dash" for exhibitors to open theaters in the country shortly after the country lifted its 35-year theater ban. Movie insiders predict that the Middle Eastern nation could be the next big international market after China — which may be why Black Panther is the first test subject. If the world-dominating superhero movie could set more records in Saudi Arabia — a wealthy country that still leans conservative on issues of religion, gender, and sexuality — Hollywood could start catering toward the country's movie market. "We think there is a huge market. Some have estimated that it will hit $1 billion in a few years," National Association of Theater Owners president John Fithian said.
It would be a fantastic development for both Hollywood and Saudi Arabia. Hollywood would diversify their films even more, while Saudi Arabia could potentially open up its culture and values.
But the new theaters are dealing with issues of gender segregation in a country that still won't allow men and women in the same rooms as each other. But Fithian is confident that as the culture "evolves," so will the seating.
"Certainly, not all the movies that play in the U.S. will play in Saudi Arabia. A lot will. Some will be censored," Fithian said. "We are trying to be respectful of a very different culture."