Exclusive 'Lowlife' Clip: A Vengeful Luchador And A Grisly Showdown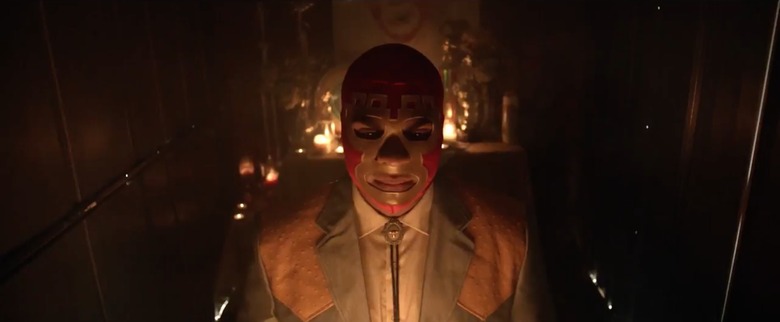 What happens when a powder-blue suited luchador, a shotgun-blastin' motel clerk, and an Aryan ex-con stereotype join forces? Not even half the amount of crazy that's loaded into Ryan Prows' grungy thriller Lowlife. Critics and festival audiences from Montreal's Fantasia to NYC's What The Fest!? have been slathering praise on thick, loudly drawing comparisons to Quentin Tarantino's Pulp Fiction given the film's chaotic crossroads storyline.
Now, we're debuting a new clip from this must-see film.
/Film's own Alex Riviello weighed in on the flick last summer and asserted the same point with forceful emphasis:
I make the Pulp Fiction connection with reluctance, but the title cards separating each separate vignette, combined with the way the film plays with its timeline – sometimes doubling back to show the same scene from the point of view of another character – forces the comparison. Immediately after Pulp Fiction was released, it felt like every damn director tried to recapture that feeling by making films about dirtbags making pop culture references. Nearly all of them utterly failed in that endeavour and people stopped trying after a while. But this is the first film I've seen in a long time that feels like it takes what made Pulp Fiction work (minus the pop culture references!) and does its own thing.
Don't believe either myself or Mr. Riviello when we say Lowlife lives up to Prows' seedy, underbelly title? Thankfully the generous people over at IFC Midnight have allowed us to debut an exclusive clip that just might change your mind. Either that or you face the blackout wrath of Prows' masked man-eater, El Monstruo!
Lowlife Clip
You'd think such a vicious act of back-alley violence might give too much away (severed hand and all), but I assure you there's so much midnight pulp madness still left for audiences to discover. Immigrants flee from dirty ICE Agents, taco shop basements are used for underground criminal activity, friendships are tested, pregnancies endangered, death a constant reality – all that and I haven't even mentioned an out-of-bounds face tattoo? There will be nothing left to shock you after Lowlife, which the film practically brags about. Political correctness torched with gasoline and flamethrowers.
Ryan Prows' directorial debut – yes, Lowlife is a first-timer's crack – features a cast that includes Nicki Micheaux (Lincoln Heights), Ricardo Adam Zarate (On My Block), a scene-stealing Jon Oswald, co-writer Shaye Ogbonna, and an exceptional performance from Mark Burnham as kingpin psychopath Teddy 'Bear' Haynes. Note that even though the above clip is subtitled, the film itself is largely in English – but El Monstruo plays by no man's rules.
Lowlife opens on this weekend on April 6th, 2018.