'Red Sonja' Movie Hires 'X-Men: First Class' Screenwriter Ashley Edward Miller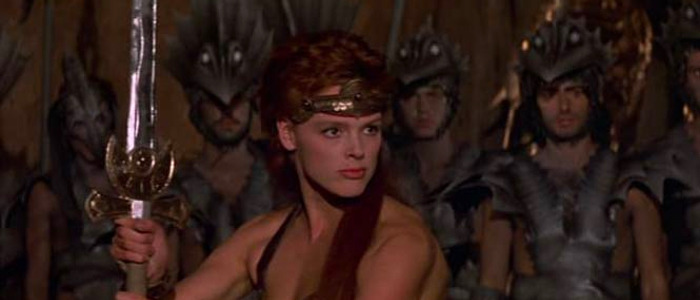 Millennium Films has found a screenwriter for their big screen take on comic book character Red Sonja. Ashley Edward Miller, who wrote X-Men: First Class, will pen the script for the sword and sorcery epic. More on the Red Sonja movie below.
After Wonder Woman cleaned up at the box office, studios began to catch on that female-driven superhero stories can turn a serious profit. Millennium Films wants in on this action, so they're going to bring the 1970s comic book character Red Sonja to the screen, and they think they've found the right writer to make it happen. Deadline reports Ashley Edward Miller, who wrote Thor, X-Men: First Class, and the upcoming remake of Big Trouble in Little China, will pen the Red Sonja screenplay.
Red Sonja is based on a character created by writer Roy Thomas and artist Barry Windsor Smith for Marvel Comics in 1973, based on Robert E. Howard's Red Sonya of Rogatino from his 1934 short story The Shadow of the Vulture. As the Marvel Wiki puts it, Red Sonja is "a sword-master in peak human physical condition, martial arts expert, as well as knowledge and experience of fighting the supernatural." This won't be the first big screen adventure for the character. There was a 1985 Red Sonja film, directed by Richard Fleischer and starring Brigitte Nielsen and Arnold Schwarzenegger.
A new Red Sonja movie has been knocking-around for a few years now. In 2008, Douglas Aarniokoski was going to direct a Red Sonja movie produced by Robert Rodriguez and starring Rose McGowan. There were even posters created for the film, but this version of the film failed to materialize. In 2011, Megan Fox was in the running to star in a Red Sonja movie, but that, too, never happened. Following that, Con Air director Simon West was floated as a possible director for the flick, with Amber Heard starring. After this version of the film never got off the ground, Red Sonja seemed to be dead. Then, in 2015, Christopher Cosmos was hired to write a new script. Cosmos has no other screenwriting credits, and his draft never got anywhere.
Now, Ashley Edward Miller will attempt to succeed where others have failed. There's a lot of potential in a title like this, and if done right, it could turn out to be a big hit. Then again, it could also turn out to be like the 2011 Conan the Barbarian reboot starring Jason Momoa, which everyone apparently wants to forget about.
For now, why not enjoy this vintage 1985 Red Sonja trailer, and marvel at how charmingly dated it seems.