Dwayne Johnson Unsure If He's Returning For 'Fast And Furious 9'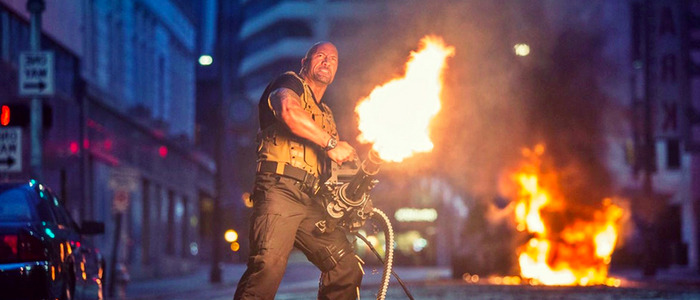 The Candy Ass Saga continues. The bad blood between Dwayne "The Rock" Johnson and Vin Diesel is apparently so palpable that there's a chance Johnson might be done with the main Fast & Furious franchise. Johnson is currently working on the Fast & Furious spin-off co-starring Jason Statham, but when asked if he might return for Furious 9, Johnson says he's "not quite sure."
The days of Luke Hobbs appearing in the main Fast and the Furious franchise may be numbed, and we may have the bad blood between Dwayne Johnson and Vin Diesel to blame. Johnson and Diesel, the two biggest names in the Fast and the Furious franchise, don't get along so well. The beef between Johnson and Diesel gained notoriety when Johnson took to social media and bemoaned certain male costars in the film.
"There's no other franchise that gets my blood boiling more than this one," he wrote. "An incredible hard working crew. Universal Studios Entertainment has been great partners as well. My female co-stars are always amazing and I love 'em. My male co-stars however are a different story. Some conduct themselves as stand up men and true professionals, while others don't. The ones that don't are too chicken shit to do anything about it anyway. Candy asses." While Johnson didn't name names at the time, it was assumed that he was primarily talking about Vin Diesel.
In a candid new interview with Rolling Stone, Johnson opens up about the bad blood between himself and Diesel. "Vin and I had a few discussions, including an important face-to-face in my trailer," Johnson tells Rolling Stone. "And what I came to realize is that we have a fundamental difference in philosophies on how we approach moviemaking and collaborating. It took me some time, but I'm grateful for that clarity. Whether we work together again or not."
The "whether we work together again or not" comment caused the Rolling Stone interviewer to inquire if this was an indication Johnson might not be returning for Furious 9. Here's Johnson's answer:
"I'm not quite sure...Right now I'm concentrating on making the spinoff [Hobbs and Shaw, co-starring Jason Statham] as good as it can be...But I wish him all the best, and I harbor no ill will there, just because of the clarity we have...Actually, you can erase that last part about 'no ill will.' We'll just keep it with the clarity."
That "erase the no ill will" part is a bit cold-blooded, but it seems to confirm that Johnson and Diesel are really not on good terms, no matter how many face-to-face conversations they've had. Johnson and Diesel shared no scenes together in The Fate of the Furious, so it's not exactly hard to believe the Rock is ready to jump ship from the franchise. He'll still be connected to the Furious brand through Hobbs and Shaw, and won't have to deal with Diesel.
Fast & Furious 9 isn't due out until April 10, 2020. Hobbs and Shaw will hit theaters July 26, 2019.