'The Hate U Give' Recasts Male Lead With 'Riverdale' Star After Controversy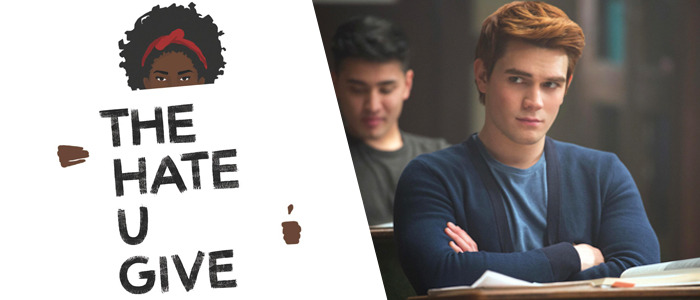 If you've paid any attention to the young adult book market over the past couple of years, you're probably familiar with The Hate U Give, author Angie Thomas's wildly popular best-seller about a young black woman who becomes an activist after seeing the police gun down her unarmed friend. It's been a hit since it debuted in January of 2017, and Fox 2000 is adapting it into a movie.
After wrapping production last November, the movie has hit a slight bump in the road, and The Hate U Give cast is now being shaken up: a new report says the film's male lead is being replaced after a controversial video of him surfaced online.
Back in February, Fox 2000 announced that they'd be parting ways with actor Kian Lawley, a YouTube personality and fledgling actor who was initially cast in The Hate U Give. He's being replaced because of videos in which he is seen using "several racial slurs," according to Deadline. That's obviously not great behavior, but the reason the studio is going as far as to fire him from the movie is because this story is inspired by the Black Lives Matter movement and specifically deals with police brutality; race is a key factor in the film, and the optics of keeping him on board were too much to handle. Good riddance.
Lawley, who was dropped by his agency after the racial slur videos resurfaced, is being replaced by K.J. Apa, who currently plays Archie on The CW's murder mystery soap Riverdale. Today marks Apa's first day on the film's set, where he'll join the cast for more than a week of reshoots. Amandla Stenberg, who played Rue in The Hunger Games, is playing Starr Carter, the female protagonist who sees her friend shot in front of her. Apa will play her boyfriend, a privileged white kid who attends Starr's school and has his eyes opened to how different their experiences are due to their different races.
George Tillman Jr., the director of the Notorious B.I.G. biopic Notorious, the Dwayne Johnson action film Faster, and an underseen 2013 indie called The Inevitable Defeat of Mister and Pete, is in the director's chair here, and he's secured a solid supporting cast around his young leads. Anthony Mackie, Common, Issa Rae, and Regina Hall are all on board, and the novel's tremendous success has only fueled anticipation for the movie.
Fox 2000 has not set a release date for the film yet, but if Ridley Scott could replace a major actor in less than a month for All The Money In The World, they should be able to work similar magic here. I expect The Hate U Give could arrive sometime in the fall, maybe even to put it in awards contention for next year's Oscars.