Terry Gilliam's 'The Man Who Killed Don Quixote' Is In Trouble Again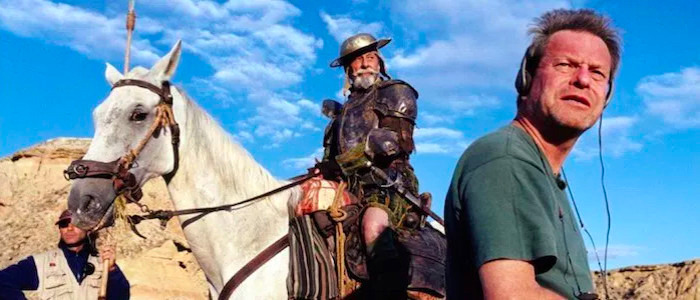 Terry Gilliam's long-delayed, constantly troubled The Man Who Killed Don Quixote is in trouble yet again. Will this film ever see the light of day? Probably not! Read about the new Man Who Killed Don Quixote problems below.
Few productions have been as plagued with problems as Terry Gilliam's The Man Who Killed Don Quixote. Gilliam set out to make the film all the way back in 1998. Since then, the production has lost actors, been shut down completely, pronounced dead, and then been revived again. Now, Don Quixote is in trouble yet again. France Inter (via The Playlist) reports that in 2016, Gilliam reached an agreement with producer Paulo Branco that gave Gilliam creative freedom over the project in exchange for the rights to the film. However, Branco apparently never provided the necessary funding, and Gilliam went out and found another producer. With a new deal in place, Gilliam finally was able to finish production, with a plan to release Don Quixote this spring.
However, Branco is now saying that since he technically owns the rights to the film, Gilliam can't release it until he grants permission. Gilliam has countered that the contract with Branco is null and void since Branco never put up the money. Gilliam took Branco to court, but the result of the court case won't be known until June. Gilliam had hoped to release the film in May, but now that's not happening. The film also won't be able to play the Cannes Film Festival this year, either.
Back in November 2017, Gilliam made it seem like all the stars were finally aligning for The Man Who Killed Don Quixote, saying:
"Well, we've almost finished the cut. We're just fiddling now, figuring out a few things here and there so it's pretty much what it is. We've got still months of work to do on visual effects, sound, music. But as far as the tale, it's pretty tight now and it's surprisingly wonderful.
I always hesitate to get too optimistic or too excited about the work I'm doing. I'd rather try to stay cynical and slightly distant from it. When you fall in love with something, it's painful when it doesn't work for everybody else. But all the people who've seen it so far — they used the words, 'We're in love with this.' So let's see if they're right."
There was a time when I was champing at the bit to finally see The Man Who Killed Don Quixote. At this point, however, I've grown a bit indifferent to the whole thing. Gilliam is a great filmmaker, and I love a lot of his movies, but his recent wrong-headed comments on the #MeToo movement have soured me a bit on him in general. That said, I'm sure there are still plenty of people who want Don Quixote to finally come out, and I'm sure Gilliam himself is dying to unleash this thing after working on it for two decades. We'll have to wait and see what happens, but look at this way: we've already waited 20 years. A few more months won't kill us.