Roger Corman's Sons Sue To Halt Their Father's Film Library Sale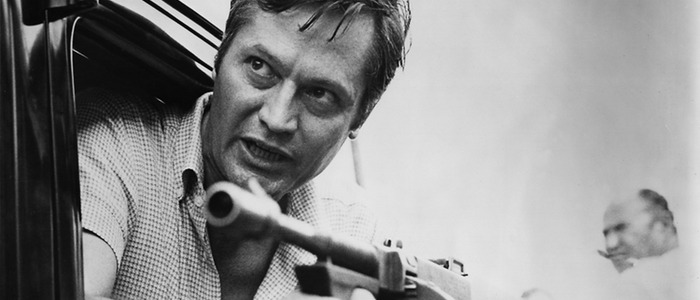 The sale of the Roger Corman Library has hit a snag. Last month, word broke that Shout! Factory and Ace Films purchased 270 titles the library of legendary B-movie king Roger Corman. Now, Corman's own sons are suing to block the sale, claiming the titles actually belong to an irrevocable trust.
I was pretty darn excited when it was announced in March that boutique Blu-ray label Shout! Factory was purchasing the rights to Roger Corman's B-movie library, consisting of 270 movies with titles like Rock'N'Roll High School, Battle Beyond the Stars, Piranha, Galaxy of Terror, Bloodfist, Black Scorpion, Eat My Dust!, Humanoids from the Deep, Slumber Party Massacre, and Forbidden World.
My excitement may have been premature. Variety reports that Corman's sons, Roger M. Corman and Brian Corman, are suing to halt the sale. Here's how Variety breaks down all the legalese of the lawsuit:
The two Corman sons — Roger M. and Brian — allege that their mother has worked for more than 10 years to undermine their father's estate plan, which was established to minimize tax liabilities. They contend that Roger, who is 91, and Julie have ignored their obligations to the trust set up for the children's benefit. Last fall, the sons filed a suit alleging that their parents were paying below-market rent to live in a mansion owned by the trust.
"You can't sell what you don't own," said Alex Weingarten, attorney for the Corman sons. "It's unfortunate that we keep having to go back over and over again to force Roger and Julie to undo what they have done."
Obviously, this puts a damper on the whole deal. Shout! Factory had planned to both re-distribute Corman's films on Blu-ray and also use the library to develop new content, including remakes, merchandise and more. Now, all that is up in the air. The Corman sons want to halt the sale entirely, while also seeking punitive damages.
It seems like this whole scenario could've been avoided if Roger and wife Julie Corman had sat down and had a discussion about all of this with their sons, but, here we are. When the sale was announced, Roger and Julie Corman issued the following statement:
"During the past decade our personal and professional relationships with Shout! Factory's Bob Emmer, Richard and Garson Foos, and Ace Film's Henry Luk and Adam Yuchen Ren have shown us that their independent, entrepreneurial spirit, respect for our work and creative methods of distribution and production make them especially well-suited to carry on with the New Horizons film library."
From a purely selfish reason, I'd like the sale to go through, just because I'd love to get my hands on new Blu-ray releases of Corman's B-movie library. I'm sure the Corman sons feel much differently, though.