'Jumanji: Welcome To The Jungle' Honest Trailer: Dwayne Johnson Is Rocky Player One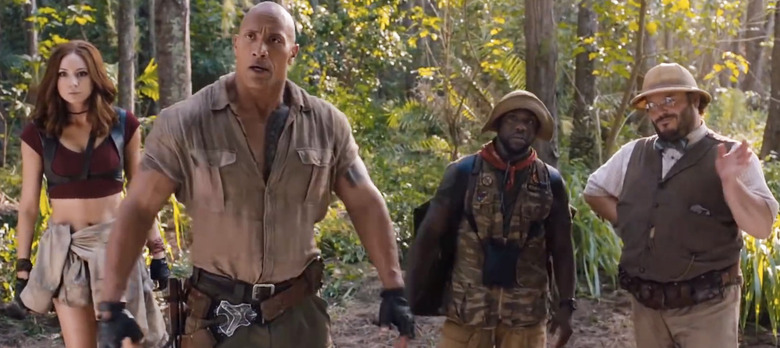 Jumanji: Welcome to the Jungle surprised the hell out of everybody by not only being pretty damn good but also by being a blockbuster behemoth, pulling in nearly $946 million worldwide. That's the kind of success that guarantees a sequel, but it doesn't preclude you from being in the sights of the folks over at Honest Trailers.
Watch the Jumanji: Welcome to the Jungle Honest Trailer
Here's a fine example of a reboot that does away with pretty much everything from the original movie except the name of the game at the center of the story and finds its own way. This could be the most successful use of previously established intellectual property without doing an insane amount of fan service that relies on the nostalgia fans had for its predecessor.
As the Honest Trailer voice notes, the movies takes more than a cue from The Breakfast Club and mixes up the characters in a video game that doesn't really adhere to the rules of video games as well as it should. Why are the villains in the game having their own cutscenes in the movie? Maybe they're like the toys in Toy Story where they have their own lives while nobody is playing with them? That's a whole other movie altogether right here.
But at the end of the day, what's great about Jumanji: Welcome to the Jungle is that it's another failed attempt at a franchise from Sony Pictures. They needed a win pretty badly, so hopefully they're enjoying this and don't screw it all up.