'The Cleanse' Trailer: Negative Feelings Become Cute Monsters In This Horror-Comedy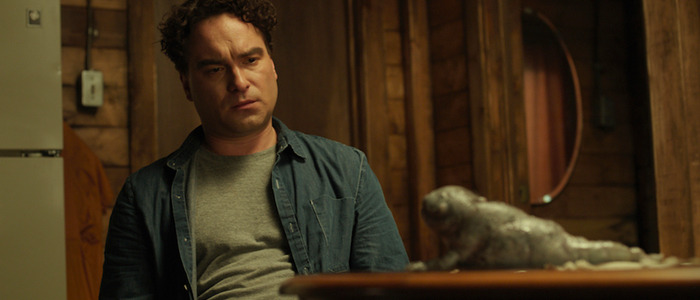 Johnny Galecki embarks on a retreat to cleanse negative toxins from his body – only to be presented with a strange new problem. The befuddling trailer for The Cleanse sets up this premise, and throws some gooey creatures in the mix. Watch The Cleanse trailer below.
Just what the heck is this? The Cleanse trailer is quite strange, and not necessarily in a bad way. Johnny Galecki plays a miserable man who goes away to a retreat with hopes of cleansing negative toxins from his body. The cleanse works – at first. But here's the catch: the expelled toxins reform into little demonic creatures. It's a truly weird, possibly brilliant premise. Here's the trailer.
The Cleanse Trailer
The Cleanse previously played a few film festivals under the title The Master Cleanse, with mixed results (it currently sits at 78% on Rotten Tomatoes). There's enough creative weirdness here to catch my interest, and the cast is pretty impressive as well. Anna Friel, Anjelica Huston, Oliver Platt, Kevin J. O'Connor, Kyle Gallner co-star.
Speaking with EW, Galecki said:
"The Cleanse is about a group of people who are unhappy in their lives...They go on one of these kind of trendy retreats that are quite the fad now, not really knowing what to expect, and not really knowing what they hope to be the result, but they want, and probably need, change in their lives. And so, they are given a cleanse on their first day, at this retreat, and what the cleanse does is expels all the toxins from your body. What they don't know, and what they soon learn, is that those toxins form into your own personal demon, your own personal pain in an embodied form — literally."
The Cleanse is the feature debut of writer-director Bobby Miller. Miller strove to use practical effects for the tiny, surprisingly cute-looking monsters in the film. The cute appearance of the creatures is intentional, as Miller told Screen Anarchy:
"I wanted a mix a cute and creepy; this idea that you cling to your baggage at first. When you're depressed, you get on your sweatpants and order takeout. There's something comfy about depression sometimes. Initially, I wanted the creatures to be cute to draw you in."
The Cleanse opens in theaters and on demand on May 4, 2018.
After holding onto heartbreak for several years, Paul (Galecki) decides to restart his life, joining a spiritual retreat designed to cleanse negative toxins from his body. But things take a turn when Paul and the other participants discover that the cleanse releases something far greater than everyday toxins and traumatic experiences. A soulful and humorous blend of Cronenberg body-horror and old-school Amblin, THE CLEANSE asks the all-important question: can we kill our demons before they kill us?