'Future World' Trailer: What If James Franco Made A Cheap 'Mad Max' Knock-Off?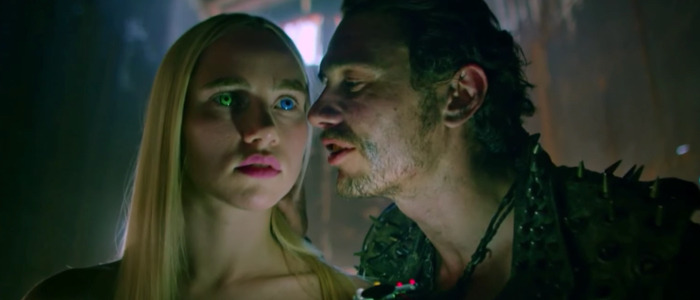 Welcome to Future World, which looks to be a low-grade knock-off of Mad Max: Fury Road featuring James Franco and Snoop Dogg. I encourage you to watch the Future World trailer below, and attempt to make sense of it all.
Future World! It's definitely a movie, and it definitely features some pretty well-known people, like James Franco, Milla Jovovich, Lucy Liu, and Snoop Dogg. Yet one can't help but watch the trailer below and wonder, "Is this a prank?" The film looks heavily inspired by the world of Mad Max, and it also features Franco giving a performance that would make even Tommy Wiseau suggest he tone it down a notch. Feast your eyes upon the Future World trailer and see what you can make of it.
Future World Trailer
Here are some wild things that happen in this trailer:
James Fracno gets off a dirt bike and begins saying (not laughing, but actually saying), "Ha ha ha ha."
Franco mutters, "Show me death..." in a bored voice.
Milla Jovovich shows up, and acts insane.
Franco randomly yells, "HER NAME'S ASH!!!"
Snoop Dogg strolls in and says, "I think I want me a robot!"
Lucy Liu makes a super-quick appearance on a set designed by Pottery Barn.
Various shots of dirt bikes, people screaming, and sand.
Future World looks like someone made a Mad Max: Fury Road fan film, and a few name actors wandered into some shots. It also looks like the type of movie someone makes after heading out into the desert while under the influence of mescaline. Then there's the official Future World synopsis:
A young boy's mother is dying and beyond the capabilities of any local medicine. Desperate for an answer, the boy travels across the barren future world wasteland, scavenging for a cure that is only rumored to exist. His will and perseverance will be tested as he strives to protect his family.
There's nothing like that, at all, in this trailer. From this trailer alone, Future World is about a robot woman, played by Suki Waterhouse, trying to get away from a lecherous creep (Franco). Then, people get into fist fights. I suppose somewhere in the middle of all that there could be a plot about a young boy searching for his dying mother...but I certainly didn't get any of that from this trailer.
Future World is being billed as a new film, but this thing has the look and feel of something from a few years ago that's been sitting on a shelf, waiting for its day to come. Casting for the film was announced back in 2016. My guess? This film wrapped sometime in 2016, and we're only seeing it now.
Franco co-directed Future World with Bruce Thierry Cheung, who has worked as a cinematographer on several of Franco's films, including In Dubious Battle and the still-unseen Zeroville.
Future World will arrive on May 25, 2018.