'Night School' Trailer: Kevin Hart And Tiffany Haddish Go Back To School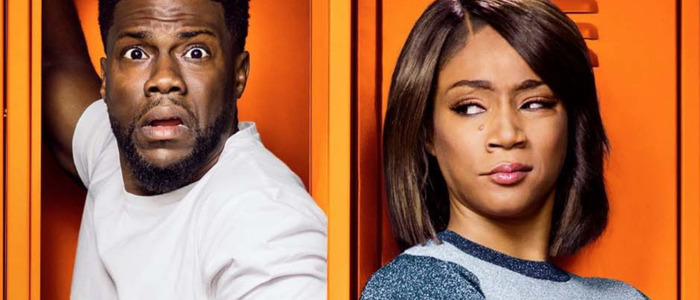 Kevin Hart and Tiffany Haddish team for Night School, a new comedy from Malcolm D. Lee, the director of Girls Trip. Watch the very funny Night School trailer below.
Tiffany Haddish's start continues to rise. Haddish has been working in show business since at least 2005, but it was her breakout role in last year's Girls Trip that truly launched her to widespread acclaim. Now Haddish reteams with Girls Trip director Malcolm D. Lee for Night School. The comedy teams Haddish with Kevin Hart for a story about "a group of misfits who are forced to attend adult classes in the longshot chance they'll pass the GED exam." The Night School trailer is below.
Night School Trailer
In addition to Hart and Haddish, Night School also stars Taran Killam, Romany Malco, Rob Riggle, Ben Schwartz, Yvonne Orji, Mary Lynn Rajskub, Anne Winters, and Keith David.
Hart took to Instagram to announce the trailer and also provide a story about how he helped Haddish during a period of her life when she was homeless. Here's the story:
I'm launching the trailer today people....The grind/Hardwork never stops. The movies just get bigger/better/funnier....Listen to how crazy life works....8 to 9 years ago @tiffanyhaddish was homeless & living out of her car. I had no idea until I saw a shitload of clothes in her car outside of a comedy club in LA. I asked her what was going on and she down played the situation....I reached in my pocket and gave her all the money I had which was $300 at the time. She held onto that moment...That moment gave her a bed & shower for a couple of nights...This woman never let her life situation beat her. She stayed true to her dreams and bust her ass to get where she is today and now she's my damn CO-STAR in my new movie "NIGHT SCHOOL"....GOD IS TRULY AMAZING. Stay on the course people and continue to follow your dreams....You are looking at 2 people on a movie poster that are living proof of it being worth it in the long run!!!! P.S I want my $300 dollars back now ????
In addition to Night School, Haddish also appears in the new TBS series The Last O.G. alongside Tracy Morgan, and has three other films set for release in 2018 – Uncle Drew, The List and All Between Us. Haddish was also recently cast in The Kitchen, a comic book adaptation also starring Melissa McCarthy and Elisabeth Moss. She also recently landed a lead role in The Lego Movie 2.
Night School opens on September 28, 2018.
Star Kevin Hart and producer Will Packer, who partnered for the hit Ride Along and Think Like a Man series, bring their signature style to Night School. The comedy from director Malcolm D. Lee (Girls Trip) follows a group of misfits who are forced to attend adult classes in the longshot chance they'll pass the GED exam.