Hulu's 'Catch-22' Series Recruits Hugh Laurie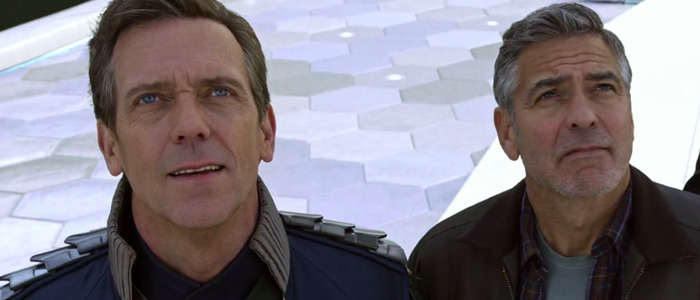 The cast of Hulu's Catch-22 is taking shape. House star Hugh Laurie is the latest addition to the TV adaptation of Joseph Heller's acclaimed novel, joining a cast that includes George Clooney and Christopher Abbott. More on the Catch-22 cast below.
It's the Tomorrowland reunion we've all been waiting for! Hugh Laurie has climbed aboard the Catch-22 cast, which will reunite him with his Tomorrowland co-star George Clooney. Clooney is also executive producing, alongside Grant Heslov. Laure will play Major de Coverley, a "squadron executive officer on Pianosa air base. A noble, leonine presence, like some Civil War general, de Coverley dances to the beat of his own drum. Regarded with awe by the men. He spends his time pitching horseshoes, listening to jazz on his phonograph, mixing himself martinis, and hiring apartments for the officers in every new city the Americans take."
Clooney is playing a character named Colonel Cathcart, described as "the squadron's commanding colonel, who wants to be a general, he keeps raising the number of missions needed to complete a tour of duty. Cathcart has a fear of failure while yearning for success." It Comes at Night actor Christopher Abbott stars as main character, Yossarian. Here's a Catch-22 synopsis.
Based on Joseph Heller's seminal novel of the same name, Catch-22 is the story of the incomparable, artful dodger, Yossarian (Christopher Abbott), a US Air Force bombardier in World War II who is furious because thousands of people he has never met are trying to kill him. But his real problem is not the enemy, but rather his own army which keeps increasing the number of missions the men must fly to complete their service. Yet if Yossarian makes any attempt to avoid his military assignments, he'll be in violation of Catch-22, a hilariously sinister bureaucratic rule which specifies that a concern for one's own safety in the face of dangers which are real and immediate is the process of a rational mind; a man is considered insane if he willingly continues to fly dangerous combat missions, but a request to be removed from duty is evidence of sanity and therefore makes him ineligible to be relieved from duty.
This is a pretty stacked cast overall. Abbott always brings an interesting intensity to his roles, Clooney can often be quite good, and Laurie is one of those actors who always delivers, even if the material is lacking. Catch-22 is yet another original series from Hulu, who are doing their best to rival streaming giant Netflix. Hulu already has the highly acclaimed series The Handmaid's Tale, and this year they debuted the excellent limited series The Looming Tower. Bringing a heavy-hitter like Clooney on board to get Catch-22 off the ground is a smart move, and I hope it pays off.