'Upgrade' Trailer: Logan Marshall Green Kicks Serious Ass With Help From His Operating System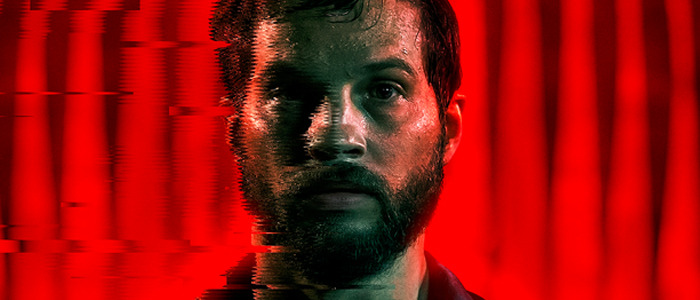 Are you ready for some hyper-violent science fiction starring a guy who looks like Tom Hardy, but isn't? Leigh Whannell, the writer of Saw and creator of the Insidious franchise, is here to scratch your itch with Upgrade, a piece of hardcore pulp entertainment starring Logan Marshall Green that won the Midnighter Audience Award at this year's SXSW film festival.
Blumhouse Tilt just released a red-band Upgrade trailer, and if you're even remotely interested in sci-fi or action filmmaking, stop what you're doing, because you need to see this right now.
Upgrade Trailer
The revenge plot is pure pulp, and adding the fact that Logan Marshall Green's character (whose name is Grey Trace, an excellent action character name) is being controlled by his operating system could not possibly be more perfectly timed to current events in our world right now. Little by little, we're all constantly ceding control of our lives to companies like Facebook and Google, so why not take that idea to its logical conclusion?
This also reminds me of a cross between the Bourne movies, in which Matt Damon unlocks a latent ability to kick ass, and Neill Blomkamp's Elysium, in which Matt Damon is operated on and given a high-powered exoskeleton. This should have starred Matt Damon, is what I'm saying.
Matt Donato reviewed the movie for /Film at SXSW, and had some very high praise for it:
Leigh Whannell's latest film Upgrade is one of the most strikingly invigorated sci-fi watches I've been awestruck by in quite some time. I'm talking *hard* sci-fi, with callbacks to anything from eXistenZ to The Matrix to Minority Report. Whannell customizes an "efficient" future not so far from our own, where self-driving Loop Dash vehicles chauffeur around bioengineered super-beings and pizzas aren't ordered, they're printed. It's the kind of SmartHouse, techno-takeover world that Apple users dream of, blackened and revenge-ified by Whannell's oddly apt Her meets Weekend At Bernie's scramble – with way more splattered blood and guts.
Man, I can't wait to see this for myself.
Take a look at the movie's new teaser poster: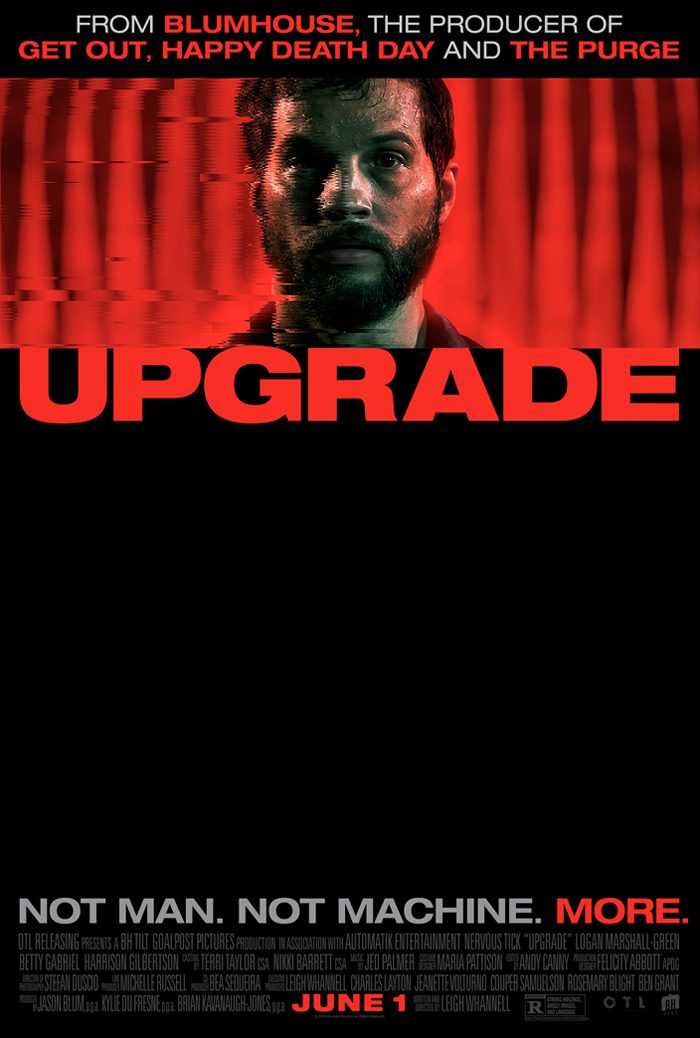 Here's the green-band trailer for the two people who read this far but didn't actually watch the red-band trailer:
And finally, here's the film's official synopsis:
UPGRADE is a thrilling and hyper violent vision of the future from the producers of GET OUT and THE PURGE, and the creator of SAW and INSIDIOUS.
After his wife is killed during a brutal mugging that also leaves him paralyzed, Grey Trace (Logan Marshall Green, SPIDER-MAN: HOMECOMING, PROMETHEUS) is approached by a billionaire inventor with an experimental cure that will "upgrade" his body. The cure – an Artificial Intelligence implant called STEM – gives Grey physical abilities beyond anything experienced and the ability to relentlessly claim vengeance against those who murdered his wife and left him for dead.
Upgrade arrives in theaters on June 1, 2018.