The Morning Watch: 'Isle Of Dogs' Edition - The Real Dogs On Set, Anatomy Of A Scene & More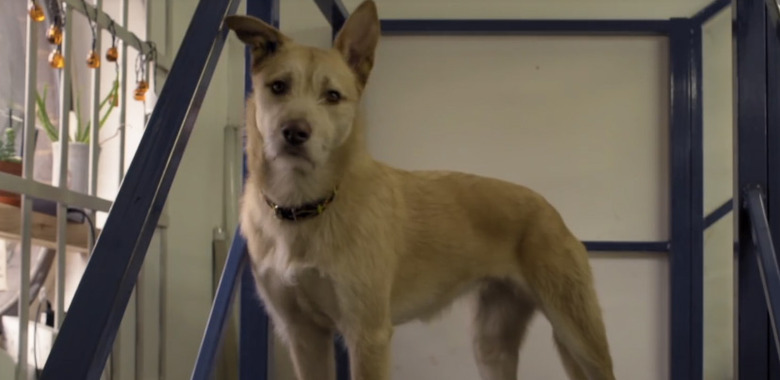 The Morning Watch is a recurring feature that highlights a handful of noteworthy videos from around the web. They could be video essays, fanmade productions, featurettes, short films, hilarious sketches, or just anything that has to do with our favorite movies and TV shows.
In this special edition, learn about the real dogs on the set of the stop-motion animated production of Isle of Dogs. Plus, director Wes Anderson guides us through the animation process of a particular scene, and he sits down with several members of the cast for a revealing Q&A about the making of the film.
First up, a little featurette gives a tribute to the real dogs on the set of the stop-motion animation production. They helped the puppeteers capture the life of dogs while animating the movie so the personality of the loyal canines could properly be transferred into the characters themselves.
Next up, director Wes Anderson takes us through the Anatomy of a Scene from Isle of Dogs. This particular sequence follows a bit dog fight happening on trash island, a huge junkyard. Anderson explains how they achieved certain elements, such as smoke from cotton wadding and water from plastic wrap.
Finally, following a sneak peek screening of the movie, the Film Society of Lincoln Center hosted a special Q&A featuring director Wes Anderson a s well as voice stars Jason Schwartzman, Koyu Rankin, Jeff Goldblum, Courtney B. Vance and Akira Ito, along with producer Jeremy Conrad.
Here's the official synopsis for Isle of Dogs:
ISLE OF DOGS tells the story of ATARI KOBAYASHI, 12-year-old ward to corrupt Mayor Kobayashi. When, by Executive Decree, all the canine pets of Megasaki City are exiled to a vast garbage-dump called Trash Island, Atari sets off alone in a miniature Junior-Turbo Prop and flies across the river in search of his bodyguard-dog, Spots. There, with the assistance of a pack of newly-found mongrel friends, he begins an epic journey that will decide the fate and future of the entire Prefecture.
Isle of Dogs is playing in select theaters now.