Tracy Morgan Boards 'What Men Want' Opposite Taraji P. Henson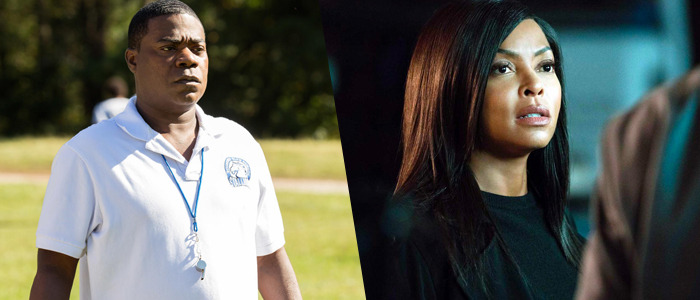 Did you know Paramount is creating a new riff on Nancy Meyers' romantic comedy What Women Want? This one is called What Men Want, and it stars Taraji P. Henson (Hidden Figures) in the lead role as a woman who can suddenly hear the thoughts of every man she comes in contact with. That already sounds a hundred times better than the original, which, if you'll recall, starred Mel Gibson as a mind-reading womanizer. (History was not kind to that film.)
But now, the new movie has gained a hilarious new cast member: former Saturday Night Live and 30 Rock star Tracy Morgan. Read about the new Tracy Morgan What Men Want character below.
The Tracking Board reports that Morgan has signed on to join Henson in the new comedy from Paramount Players, a new division of Paramount Pictures that was created last year to increase the studio's production output.
What Men Want is described as being "inspired by" What Women Want, but it's unclear whether there will be any actual crossover between the projects (fingers crossed for a Helen Hunt cameo) or if it'll be its own thing. In this version, Henson will play a sports agent who has been "constantly boxed out by her male colleagues." But suddenly being able to hear the thoughts of every man she meets gives her a competitive advantage, and she uses it in an attempt to sign the next big NBA superstar.
Morgan will co-star as the NBA star's father/manager, an impulsive and loud-mouthed manager akin to LaVar Ball, the father of current Los Angeles Lakers player Lonzo Ball. Sounds like a perfect fit for Morgan's comedic talents.
Interestingly, What Men Want has been on Paramount's plate for a long time – well before the Paramount Players division was formed last year. Looking back at the /Film archives, we wrote about the project in 2010, when it was intended as a starring vehicle for Cameron Diaz and was described as a direct sequel to the original movie. Diaz is retired now, so while I'm sure we're all getting a little tired of studios digging up and repackaging all of their existing intellectual property, I'm definitely here for Henson taking over and being joined by a boisterous Morgan on the big screen.
Adam Shankman (The Wedding Planner, A Walk to Remember) will direct and executive produce, and Will Packer and James Lopez are producing. What Men Want will hit theaters on January 11, 2019.