John Boyega Has Met With Marvel Before, Would Be Open To Play A Superhero In The Future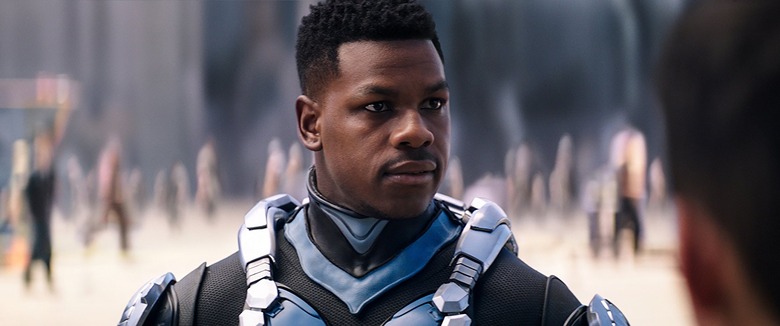 Pacific Rim Uprising proved that John Boyega is long due for a franchise to headline on his own. But could that franchise be a Marvel superhero series?
Maybe, Boyega said at Awesome Con in Washington, D.C. The Star Wars and Pacific Rim Uprising actor hinted that he met with Marvel in the past, but would probably not play a superhero until somewhere "down the line."
Boyega already has two massive sci-fi franchises under his belt, but could he add a superhero franchise on top of that? Hypothetically yes, Boyega told the moderator at the Awesome Con panel on Saturday. And if had to choose between the DCEU or the MCU,  Boyega answered, "I mean it would have to be Marvel."
But playing a Marvel superhero may be more than just a pipe dream. Boyega revealed to everyone in attendance at Awesome Con (including yours truly) that he'd had meetings with Marvel in the past.
I've been into meetings before at Marvel and I'm a big fan of what they're doing. But right now I'm just trying to get into over Infinity War trailer. Thanos is not kidding around! I'm happy to be part of Star Wars now, but down the line I definitely [would play a Marvel hero].
The question now is: Who would he play? Boyega has been rumored to take on the role of the vampire hunter Blade before after fan art surfaced of him as the character originated on screen by Wesley Snipes. But Boyega has shot down the possibility of playing Blade before in an interview with /Film's Ben Pearson, and he shot it down again at Awesome Con:
I believe it would be a spit in the face of Wesley Snipes if I took Blade. I like Wesley. And he actually followed me on Twitter the other [day]. I went on his DMs and was like, "It's an honor to meet you! By the way, you are Blade.
So it's TBD on who Boyega would play if he were to join the Marvel universe in the future. But the good thing is that he's got plenty of options. The Marvel Cinematic Universe will only expand cosmically after Avengers 4, and this year's mega-hit Black Panther offers a whole array of rich, complex black characters.
That is, if Boyega doesn't get burned out with franchises after Star Wars wraps up. Boyega did note that "I've got to take a break from sci-fi after [Star Wars and Pacific Rim]" but he quickly said that superhero movies don't count. Good, because the MCU could use an energetic, charismatic actor like Boyega.