'Rick And Morty' Gets A Wild Australian Remix In Adult Swim's 'Bushworld Adventures' Animated Short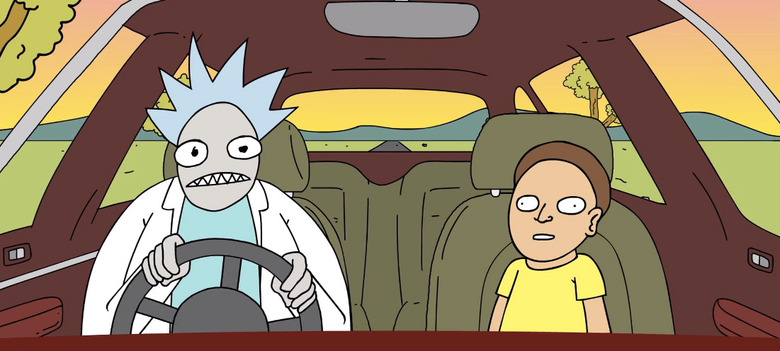 We may receive a commission on purchases made from links.
Last year on April Fool's Day, the ultimate Adult Swim joke came in the form of a surprise season premiere of the third season of Rick and Morty. This year, it seemed unlikely that a surprise fourth season premiere would happen, especially with the trouble behind the scenes in getting an official order for the show to continue. But fans were still treated to a Rick and Morty prank anyway.
Rather than deliver a new episode of Rick and Morty, an animated short called the Bushworld Adventures debuted that takes the Rick and Morty formula and sets it in Australia. However, instead of going on any cosmic adventures, the duo just go on a wild road trip across the bush of Australia. The result is a short that is somehow more twisted and intense (not to mention Australian) than the real Rick and Morty, and that's saying something.
Watch the Rick and Morty Short Bushworld Adventures
This creation by Michael Cusack isn't that much darker than Rick and Morty, but there is something that feels almost like this is an acid trip version of a show that already feels like it's an acid trip. Rick taking his portal gun, modified to look like a real gun, and pointing it at Morty's head while they're driving is pretty damn twisted. But I suppose Rick threatening to suck the venom out of a snake bite on Morty's genitals isn't any more strange than other things we've seen on the real animated series (or even in the test episodes before it became an Adult Swim series).
This isn't quite as great of a gift as a new episode of Rick and Morty, but I suppose we should take what we can get for the time being. After all, the way it's looking, we're not going to get any new episodes of Rick and Morty until sometime in 2019, so we definitely need something to tie us over besides the plentiful amounts of Szechuan sauce available at McDonald's now.
The good news is that fans will soon be able to hold themselves over by picking up the third season of Rick and Morty on Blu-ray and DVD, arriving on May 15. Of course, if you're that desperate to rewatch them, you can always download them from iTunes right now, but if you're that big of a Rick and Morty fan, you probably already knew that.