'Creed 2' Begins Filming, Sylvester Stallone Excitedly Shares Video From Set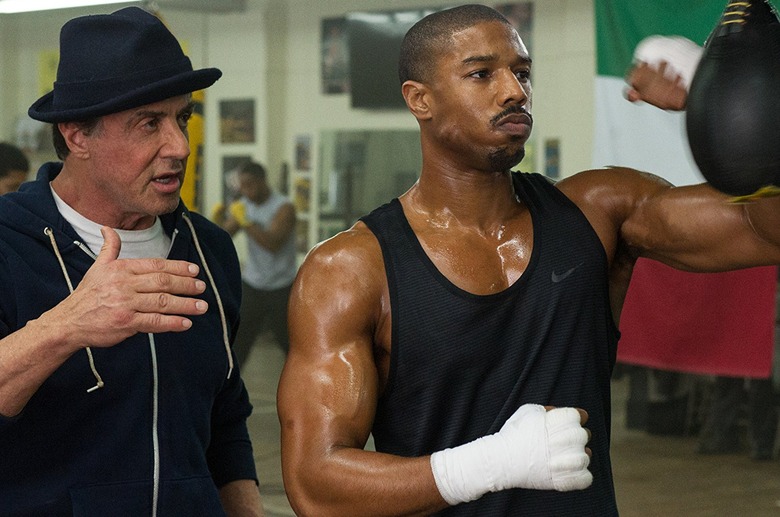 Get pumped up for round two of Creed.
Creed 2 filming is officially underway and star Sylvester Stallone shared a delightful Instagram video from the movie's Philadelphia set. But as we eagerly anticipate the next movie in the franchise, Stallone is more than happy to take you on a trip down memory lane.
"You know the old cliché that it 'seems like yesterday'... but it does," Stallone writes in the caption of his Instagram video from the Philadelphia set of Creed 2.
Stallone released the behind-the-scenes video on Monday, announcing the official Creed 2 filming start date.
You know the old cliché that it "seems like yesterday and "but it does and it's a very exciting moment to be here getting ready to Watch Creed 2 to commence filming. A very exciting day !!! The actors and production team has been waiting a long Time for this film to start , so ladies and gentlemen get ready to watch the fists startFLYING! #MGM #rockybalboa #CREED2
A post shared by Sly Stallone (@officialslystallone) on
You don't see much in the behind-the-scenes video apart from the grey, drizzling Philadelphia skies and Stallone's trailer, which he compares to the rickety one he first received in the 1976 Rocky. "Progress has been made," he jokes in the video. Stallone then makes a show of giving the fans a tour of the set, telling the camera with a wink, "You guys want to be high and dry for the fight that's coming."
And what's coming promises to be a dramatic turning point for the green light heavyweight boxer Adonis Creed (Michael B. Jordan). After stepping out from under his father Apollo Creed's shadow and bringing the legendary Rocky Balboa out of his post-retirement stupor in 2015's Creed, Adonis will face off against Vitor Drago (Florian Munteanu), the son of the man who killed Apollo in the boxing ring, Ivan Drago (Dolph Lundgren).
Written by Stallone and Cheo Hodari Coker (Luke Cage), Creed 2 will be helmed by The Land director Steven Caple Jr. Caple Jr. has big shoes to fill by taking over the directing reins from Ryan Coogler, who delivered a rousing box office hit. But Caple Jr. seems like he will more than live up to the challenge.
"This next Creed is a tale beyond the boxing ring and dives deep into family, legacy, and fears," Caple Jr. said in a press release announcing the Creed 2 production start date. "I'm excited to share my view and collaborate with the talented cast and crew."
Also returning to the cast are Tessa Thompson as Bianca, Phylicia Rashad as Mary Anne, Wood Harris as Tony 'Little Duke' Burton, and Andre Ward as Danny 'Stuntman' Wheeler.
Creed 2 is set to hit theaters on November 23, 2018.
Life has become a balancing act for Adonis Creed. Between personal obligations and training for his next big fight, he is up against the challenge of his life. Facing an opponent with ties to his family's past only intensifies his impending battle in the ring. Rocky Balboa is there by his side through it all and, together, Rocky and Adonis will confront their shared legacy, question what's worth fighting for, and discover that nothing's more important than family. Creed II is about going back to basics to rediscover what made you a champion in the first place, and remembering that, no matter where you go, you can't escape your history.