New 'Avengers: Infinity War' TV Spot: The Avengers Are Running Out Of Time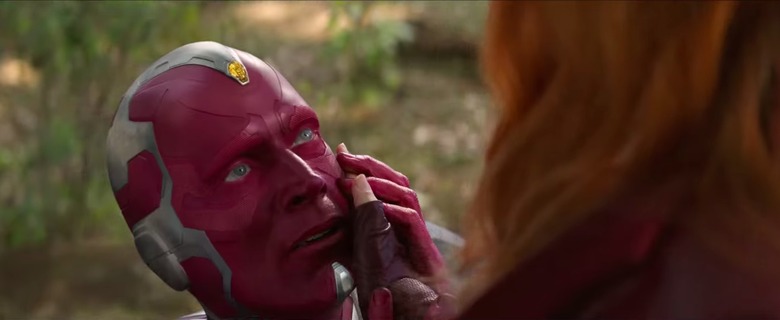 Never was a story of more woe than that of Wanda Maximoff (Elizabeth Olsen) and her Vision (Paul Bettany).
The tragic romance between the two Avengers will probably be cut short if the evil, power-hungry Thanos (Josh Brolin) has anything to say about it. But at least we get a few more shots of the two of them desperately gazing into each other's eyes in the latest Avengers: Infinity War TV spot.
Avengers Infinity War TV Spot
Thanos only has "one goal," his adopted daughter Gamora (Zoe Saldana) warns ominously. And that is to complete the all-powerful, worlds-destroying Infinity Gauntlet — regardless of who gets in his way.
But he has Earth's mightiest heroes and the Guardians of the Galaxy to contend with in Avengers: Infinity War, the latest Marvel Studios movie that unites all of the heroes we've met in the Marvel Cinematic Universe. The separate teams unite to stop Thanos and his dream of galaxy-wide conquest, but they may be "running out of time," as Vision despondently says.
Things don't look good for the Avengers and the Guardians, but they won't go down without a fight. And it looks like it will be a fight to remember.
Avengers: Infinity War has one of the most impressive ensembles in history, including Scarlett Johansson, Josh Brolin, Robert Downey Jr., Mark Ruffalo, Tom Hiddleston, Chris Evans, Chris Hemsworth, Jeremy Renner, Chris Pratt, Elizabeth Olsen, Sebastian Stan, Benedict Cumberbatch, Paul Bettany, Samuel L. Jackson, Chadwick Boseman, Cobie Smulders, Benedict Wong, Zoe Saldana, Karen Gillan, Dave Bautista, Pom Klementieff, Don Cheadle, Tom Holland, Bradley Cooper, and Anthony Mackie.
Here is the official synopsis for Avengers: Infinity War:
Iron Man, Thor, the Hulk and the rest of the Avengers unite to battle their most powerful enemy yet — the evil Thanos. On a mission to collect all six Infinity Stones, Thanos plans to use the artifacts to inflict his twisted will on reality. The fate of the planet and existence itself has never been more uncertain as everything the Avengers have fought for has led up to this moment.
Avengers: Infinity War is set to hit theaters on April 27, 2018.