'A Quiet Place' Final Trailer: Critics Scream Their Praise For John Krasinski's Horror Film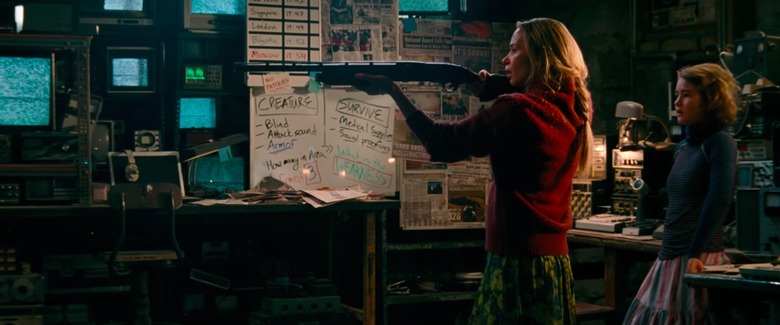 Stars John Krasinski, Emily Blunt, Millicent Simmonds, and Noah Jupe may have to keep their mouths shut, but critics could not give louder praise to A Quiet Place.
The Krasinski-directed horror film is garnering rave reviews, which the final A Quiet Place trailer gathers up in one convenient promotional video.
Final A Quiet Place Trailer
The characters can't say much in A Quiet Place, so the trailer lets the critics do the talking for it. And man, do they have a lot to say about the highly anticipated horror film. "Pulse-pounding." "Terrifying." "You'll grip the arm rests until your knuckles turn white." Appropriate adjectives for a movie that many critics are declaring one of the scariest movies of 2018.
A Quiet Place made its buzzy premiere at SXSW in March, and since then, has only been gaining steam. Here's what /Film's Meredith Borders, who is quoted in this trailer, said in her SXSW review of A Quiet Place:
Because A Quiet Place is, above all else, really scary. Krasinki plays with tension in relentless waves, these cycles of fear and release, fear and release. So many of these recent contained horror films are all build-up and no pay-off, and A Quiet Place pays off again and again, with remarkable set pieces and long, unflinching looks at these arachnid beasts, their leathery, complicated physiques, endless caverns of teeth and giant, ghastly ears. The score is plaintive and mostly sparing, until the moments that our heroes are face to face with these horrifying creatures, and then it's almost louder than we can stand.
The film follows Krasinski and Blunt's parents as they try to protect their children from unseen monsters who hunt by sound. The trailers so far have been moody, dialogue-light tone poems — with moments of spine-tingling horror. It's a chilling, high-concept film that looks like it will take the title for 2018's most cerebral horror film, following in the footsteps of last year's Get Out and It Comes at Night.
A Quiet Place hits theaters on April 6, 2018.