'Star Wars Episode 9' Won't Separate Finn And Rey, John Boyega Confirms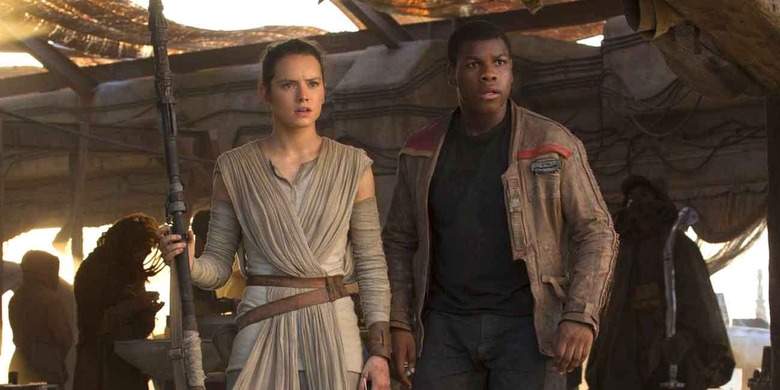 Finn and Rey are the heart and soul of the new Star Wars trilogy. When Daisy Ridley and John Boyega literally crashed into each other in Star Wars: The Force Awakens, they instantly had so much charm and chemistry that it was no question that they were fit to lead Star Wars into a new era.
That's why it was such a tragedy that they were kept apart in Star Wars: The Last Jedi. But don't worry, Finn-Rey shippers. That dynamic that you loved so much in Force Awakens will be back in Star Wars Episode 9.
At Washington, D.C.'s annual Awesome Con, John Boyega confirmed that Finn and Rey won't spend Episode 9 separated from each other.
"I haven't read the script for Episode 9. But Daisy did shoot me a text saying, "Oh my gosh, I just heard from J.J. [Abrams], and we're back together. That's what I'm really excited about, is Finn and Rey back together again."
This is amazing news for anyone who dearly loved the relationships in The Force Awakens. As the middle child of the trilogy, The Last Jedi naturally had to test each of the characters in their own separate storylines. And while it would have been nice to have our beloved Finn, Rey, and Poe be tested altogether, that just wouldn't have worked, The Last Jedi director Rian Johnson previously told us. "[These] guys don't challenge each other," Johnson said in an interview with /Filmcast.
I mean, I get it, but that doesn't mean I was counting down the seconds until Finn and Rey were sharing scenes again. And we finally got it — in the final minutes of The Last Jedi.
But, if what Boyega says is correct, that will be the opposite case in Star Wars Episode 9. We'll get Finn and Rey gallivanting across the galaxy, together again! But it won't be so easy for them, with the Resistance members dwindling and the First Order under the command of Kylo Ren.
"I think it's going to be all-out war in this final chapter, so we need to be prepared," Boyega added at Awesome Con.
What else could we see in Episode 9? Boyega isn't sure, since he hasn't seen the script — even though the Star Wars sequel starts shooting in three months — but he does have one thing that he he hopes the movie will tackle: Finn's backstory.
"One question I've always had as an actor being involved in Star Wars is why Finn decided to defect in the first place. I still don't understand. I would love to know more, to go into his life as a Stormtrooper."
With The Force Awakens J.J. Abrams returning to direct, effectively book-ending the trilogy, it would be sweet to see the beginnings of the rogue Stormtrooper who started it all.
Star Wars: Episode 9 is set to hit theaters on December 20, 2019.