'The Stand' Is Apparently Now A 10-Hour CBS All Access Series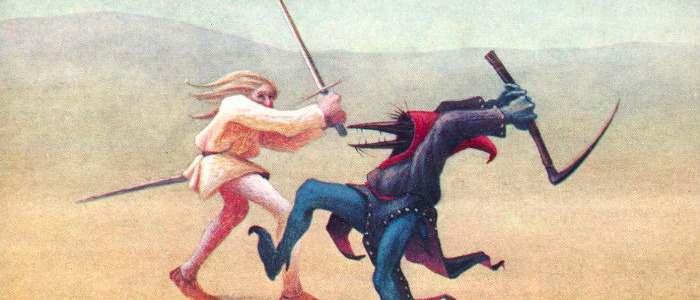 A new adaptation of Stephen King's massive post-apocalyptic novel The Stand has been brewing for years. The Fault in our Stars and The New Mutants director Josh Boone has been attached to direct the adaptation since 2014, but the project has been delayed. Now, an update has arrived: The Stand might end up as a 10-hour CBS All Access series. More on The Stand series below.
Just what in the name of Captain Trips is going on with the new adaptation of Stephen King's The Stand? New Mutants director Josh Boone has been attached to helm a new take on King's tome of terror for years, but the project hit a roadblock and ended up in limbo sometime around 2016. Now, we finally have an update. The Tracking Board reports that Boone is still attached, and that the adaptation "is coming together as a ten-hour limited series at CBS All Access." CBS All Access is CBS's subscription streaming service, home to Star Trek: Discovery and The Good Fight.
King's lengthy novel concerns the breakdown of society following a mutated flu outbreak that kills 99% of humanity in the span of a few weeks. The book focuses on two specific sets of survivors – a group lead by a benevolent 108-year-old woman named Mother Abagail, and a group lead by Randal Flagg, a demonic, supernatural figure who wants to spread chaos. The book was previously adapted into a 1994 miniseries. The news that The Stand might become a new series is just the latest entry in an ever-mutating history surrounding possible adaptations of King's book.
The Stand Adaptation History
In 2011, a new The Stand adaptation was announced, with the Harry Potter team of director David Yates and screenwriter Steve Kloves in charge of the project, with a plan to possibly adapt the book into three films. This news was short-lived, because later in 2011, Yates was out, and Ben Affleck became attached to helm the film.
In 2012, Affleck provided an update on his Stand adaptation, saying the scripting was proving difficult:
"Right now we're having a very hard time. But I like the idea—it's like The Lord of the Rings in America. And it's about how we would reinvent ourselves as a society. If we started all over again, what would we do?"
By 2014, Affleck had departed, and Warner Bros. tapped Josh Boone, director of The Fault in our Stars, to helm. After Boone joined the film, word broke that the adaptation was now being planned as four films. Boone said he was throwing out earlier drafts, which treated the material more like a summer blockbuster than a film focusing on characters:
"[Those drafts] were not so much where I thought they should be going with it. [They were] much more like a big summer blockbuster. When I thought about The Stand it's so much about the vast network of characters, and all their problems. It's kind of a morality play set in post-apocalyptic America. The battle between good and evil is the battle for these peoples' souls. They make choices which dictate the fate of humanity."
Boone then added that he initially pitched Warner Bros. on one three hour movie:
"I really wanted to do an A-list actor, really grounded, credible version of the movie. I sold them on that and they hired me...I sold them on a single, three hour movie. I went and got [Stephen] King sold on it, everybody's really excited...I told the story non-linear and that was the way I was able to compress that book and get everything into that script. You open with Mother Abigail dying and sending the guys off, and then you jump back in time... So what happened is the script gets finished, I write it in like five months, everybody loves it, King loves it, $87 million is what it was budgeted at, really expensive for a horror drama that doesn't have set pieces."
After this pitch, however, Warner's asked if he wanted to do multiple films:
"They came back and said "would you do it as multiple films?" and I said "fuck yes!" I loved my script, and I was willing to drop it in an instant because you're able to do an even truer version that way. So I think we are going to do like four movies. I can't tell you anything about how we're going to do them, or what's going to be in which movie. I'll just say we are going to do four movies, and we're going to do THE STAND at the highest level you can do it at, with a cast that's going to blow people's minds. We've already been talking to lots of people, and have people on board in certain roles that people don't know about. We're looking to go into production next year, maybe in the spring."
Later in 2014, word broke that Matthew McConaughy was reportedly in talked to play Randall Flagg, the main villain of the story. This fell through, and McConaughy would go on to star in another King adaptation – The Dark Tower.
In 2015, rumors surfaced that Boone and Warner Bros. were "talking to Showtime about airing an 8-part miniseries of The Stand that would act as a lead up to The Stand movie, which would hit theaters after the series ends. "
By 2016, however, Boone's The Stand was on hold. Boone then considered adapting another King book, Revival. Later in 2016, producer Roy Lee – who would later produce 2017's It – offered an update on the project:
"Right now it's just in a holding pattern trying to figure out how to best make the movie because we've toyed with breaking it up into multiple movies, making it into one, making it into two. The latest draft, Josh Boone had written it and he was very anxious to make it but since then has written another script, Revival, which he's gonna do beforehand, so we're just waiting for that."
Lee also revealed the idea of a TV series leading into the film was dead:
"There was definitely talk about doing that but the logistics made it very difficult to try to do a worldwide launch of a movie when the TV component would not necessarily be released at the same time worldwide. So it became a logistic nightmare to try to figure that out, so that plan was abandoned."
Since then, all has been quiet on The Stand front. Now comes the word of the CBS All Access series. Honestly, this makes the most sense. There's just too much story to fit The Stand into one movie. And the idea of breaking it up into multiple movies never sat right with me. A limited series, however, would be able to do King's work justice. Now we'll just have to see if it happens.