'Lu Over The Wall' Trailer: Masaaki Yuasa's Mermaid Fantasy Sings With Joy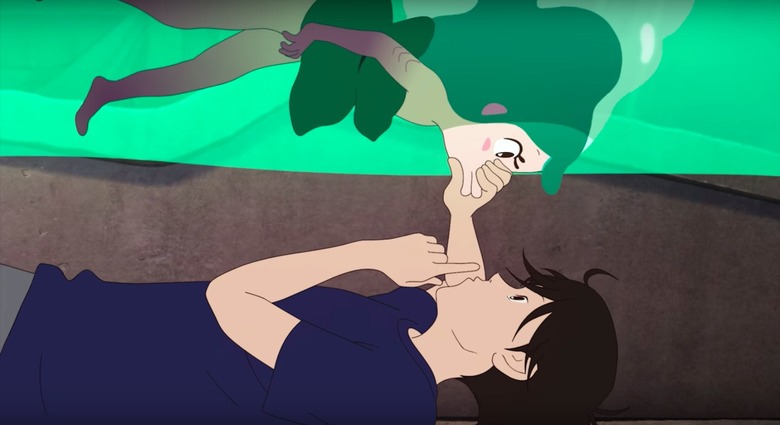 This is not your grandma's Little Mermaid. In fact, it's not your Little Mermaid either. Lu Over the Wall deserves a title unto its own, as a surreal, vividly colored fairy tale that plays with the limits of imagination.
But that's to be expected from visionary animated director Masaaki Yuasa. Most recently known for his incredibly popular Netflix anime Devilman Crybaby, Yuasa is responsible for one of the best anime films ever, 2004's Mind Game. And Lu Over the Wall looks like it will be a worthy next film from Yuasa.
Lu Over the Wall Trailer
Think Hayao Miyazaki's Ponyo, but on LSD, and with a fluid animation style that matches the watery setting of Lu Over the Wall. Dripping with energy and acid-washed aesthetics, Lu Over the Wall seems like it will follow in the footsteps of recent amazing anime films like last year's Your Name and In This Corner of the World.
The story follows an outsider middle school boy who joins a band — only for their music to attract the attention of a music-loving mermaid. All sorts of wacky hijinks ensue in a film that looks incredibly fun and irreverent.
The U.S. version of the film from GKIDS features voices by Michael Sinterniklaas and Stephanie Sheh. After it picked up the Grand Prize at the Annecy International Animation Festival in June last year, Lu Over the Wall will receive its U.S. release on May 11, 2018.
Here is the official synopsis for Lu Over the Wall:
From visionary anime auteur Masaaki Yuasa, comes a joyously hallucinogenic but family-friendly take on the classic fairy tale about a little mermaid who comes ashore to join a middle-school rock band and propel them to fame. Kai is talented but adrift, spending his days sulking in a small fishing village after his family moves from Tokyo. His only joy is uploading songs he writes to the internet. When his classmates invite him to play keyboard in their band, their practice sessions bring an unexpected guest: Lu, a young mermaid whose fins turn to feet when she hears the beats, and whose singing causes humans to compulsively dance – whether they want to or not.
As Kai spends more time with Lu, he finds he is able to tell her what he is really thinking, and a bond begins to form. But since ancient times, the people in the village have believed that mermaids bring disaster and soon there is trouble between Lu and the townspeople, putting the town in grave danger. Winner of the Grand Prize at the prestigious Annecy Animation Festival, and premiering in English as an official selection of Sundance 2018, Lu Over the Wall is a toe-tapping, feel-good demonstration of Yuasa's genre-mixing mastery that will leave you humming long after you leave the theater,