'Cargo' Trailer: Martin Freeman Vs. The Zombie Apocalypse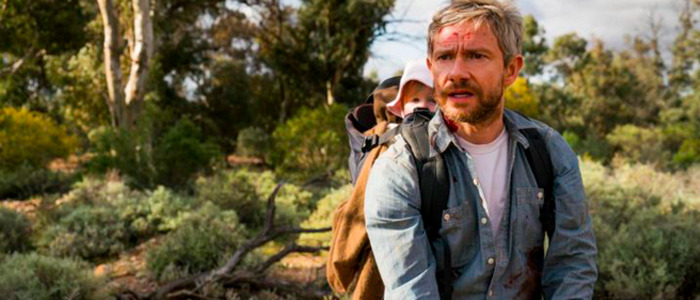 Martin Freeman had a quick cameo in Edgar Wright's Shaun of the Dead, but now he's headlining his very own zombie movie. We've been writing about the Australian film Cargo for years, and this new trailer tells us when we'll finally get to see Freeman brave a zombie apocalypse in an attempt to save his character's infant daughter.
Cargo Trailer
Cargo is directed by Yolanda Ramke and Ben Howling, and it's a remake of the pair's 2013 short film of the same name. That short currently has over 14 million views on YouTube and was a finalist at the Tropfest short film festival. If you're interested in comparing the two, you can check out the original short below:
Interestingly, Freeman doesn't consider Cargo to be a zombie movie. Instead, he says it's "a film with some zombies in it." I don't know, man – looks a lot like a zombie movie to me. There's no shame in embracing a film for what it is, especially one in this particular genre. While zombie movies have become stale over the past decade or so, they have a long history of providing relevant social commentary and thrills alike. And it's not like zombie stories are completely worthless now: AMC's The Walking Dead hasn't been good in years, but recent zombie movie fare like Train to Busan or The Girl With All The Gifts proved that it's still possible to breathe some new life into this genre.
Seeing this trailer, I immediately thought about Maggie, the quiet 2015 indie drama starring Arnold Schwarzenegger that featured the actor shunning his action movie persona to play the father of a zombified child. Cargo isn't quite as much of a career departure for Freeman, who has starred in his share of dramatic projects (including a phenomenal performance in the first season of FX's Fargo), but it's an inversion of Maggie, with the father being the infected one this time around.
IMDb lists Cargo as a 2017 movie, but this trailer claims it'll be in cinemas on May 17, 2018. That will presumably only be in international cinemas, because Cargo will debut on Netflix in the United States on May 18, 2018. The streaming service is taking the movie to this year's Tribeca Film Festival in late April, where it will make its North American debut.