Colin Trevorrow Will Return To Direct 'Jurassic World 3'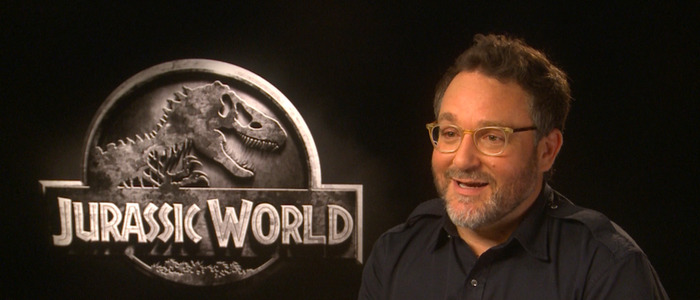 After sitting Jurassic World: Fallen Kingdom out, Jurassic World director Colin Trevorrow will return to helm Jurassic World 3. Trevorrow will also pen the script with Pacific Rim Uprising writer Emily Carmichael.
Colin Trevorrow is the once and future Jurassic World director. Trevorrow helmed the monster 2015 hit Jurassic World, but handed directorial duties off to J. A. Bayona for the follow-up Jurassic World: Fallen Kingdom. Now, Trevorrow will return to the director's chair once again to direct Jurassic World 3.
Jurassic founding father Steven Spielberg confirmed Trevorrow as director to EW, saying: "Colin Trevorrow is going write and direct the third Jurassic World story." Spielberg will once again return as Executive Producer.
While Trevorrow isn't helming the second Jurassic World film, he never really left the franchise. Fallen Kingdom uses a script he wrote with frequent collaborator Derek Connolly. Connolly won't be handling screenwriting duties with Trevorrow for Jurassic World 3, however. As previously reported, Emily Carmichael, who co-wrote Pacific Rim Uprising, will collaborate with Trevorrow for the Jurassic World 3 script. "Emily Carmichael is the next great writer-director of the kind of movies I love," Trevorrow said in the past. "Her ability to find warmth and humanity in genre storytelling is a superpower in itself." Trevorrow also added:
"It's important to this franchise that we welcome new creative voices to keep our storytelling fresh and alive. I'm thrilled with the tension and beauty J.A. has brought to 'Fallen Kingdom, and I know Emily will add another layer of emotion to the concluding chapter of our trilogy."
Few people have laid eyes on Jurassic World: Fallen Kingdom yet, so it's almost impossible to guess what will happen in Jurassic World 3. My guess is it will involve dinosaurs in some capacity, but I could be wrong. Stars Chris Pratt and Bryce Dallas Howard are both expected to return.
Trevorrow originally pitched a trilogy when he joined the Jurassic franchise. In the past, he said:
"I knew where I wanted it to go. I remember telling Steven [Spielberg] even while we were making the first movie, "This is the beginning. Here is the middle. And here's the end of the end. This is where we want to go. I feel like that kind of design is crucial to a franchise like this if you really want to bring people along with you and make sure they stay interested. It needs to be thought through on that level. It can't be arbitrary, especially if we want to turn this into a character-based franchise with people who you lean in to follow what they're going to do."
Trevorrow also said: "At the end of [Fallen Kingdom] it's not a cliffhanger, but it's designed for people to want to know what's going to happen next, whereas the earlier Jurassic Park movies had pretty clear definitive endings."
I have mixed feelings about all of this. While I don't loathe Jurassic World as much as most of my peers, I also liked the idea of handing subsequent sequels off to different directors – sort of like what the Mission: Impossible franchise has been doing for some time. Of course, on top of all that, I also feel like the Jurassic franchise has run its course and maybe – just maybe – it's time to stop making sequels. As long as these films keep raking in big box office, however, the franchise will continue.
Jurassic World: Fallen Kingdom hits theaters on June 22, 2018. Jurassic World 3 will hit theaters on June 11, 2021.