Step Onto The Set Of 'The Last Jedi' With This Stunning 'Star Wars VR' Video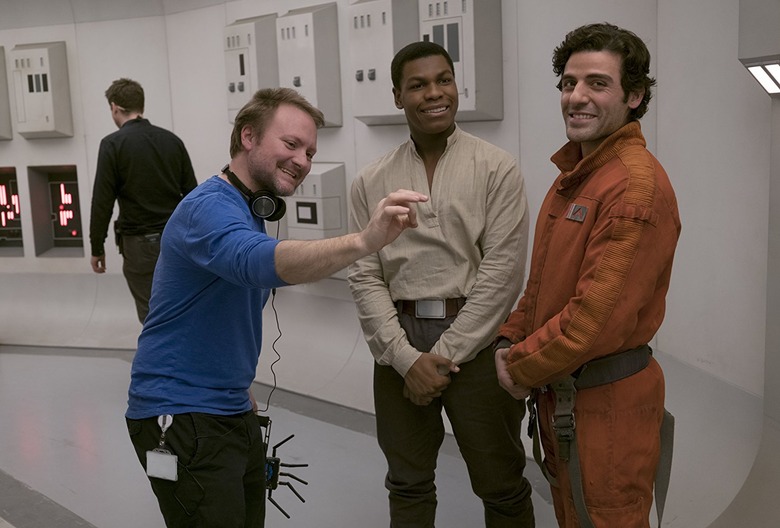 There may be a dozen featurettes and documentaries out right now that give you a taste of what it's like to be on the Star Wars: The Last Jedi set, but none let you set foot on it. Until now.
A Star Wars VR set video has been released that gives you an idea of what it's like to step onto the set of The Last Jedi. The Star Wars VR video allows you to walk alongside BB-8, dive into the salty trenches of Crait, and most importantly, sit in the orchestra itself as legendary composer John Williams scores the film. Get your VR goggles out, this is going to be an out-of-this-world experience.
Star Wars VR Set Video
StarWars.com shared the stunning featurette to coincide with the recent release of Star Wars: The Last Jedi on Blu-ray and DVD.
The featurette goes into the recording of The Last Jedi's magnificent score in 360 VR. Viewers can click and drag on the video to get a different perspective, and the lucky few who have VR goggles can experience the whole thing like they're really there.
The Last Jedi featurettes seem to be greatly emphasizing Williams' score. First there's a music-only cut of the film that's available on digital download, and then another featurette showed director Rian Johnson raving about Williams' iconic theme. But with reports that Episode 9 could be Williams' last Star Wars film, it all makes sense.
Star Wars: The Last Jedi is available now on digital, Movies Anywhere, 4K Ultra HD, Blu-ray, and On-Demand. The soundtrack is also available now.
Luke Skywalker's peaceful and solitary existence gets upended when he encounters Rey, a young woman who shows strong signs of the Force. Her desire to learn the ways of the Jedi forces Luke to make a decision that changes their lives forever. Meanwhile, Kylo Ren and General Hux lead the First Order 

in an all-out assault against Leia and the Resistance for supremacy of the galaxy.