'Pass Over' Trailer: Spike Lee Brings Antoinette Nwandu's Play To Amazon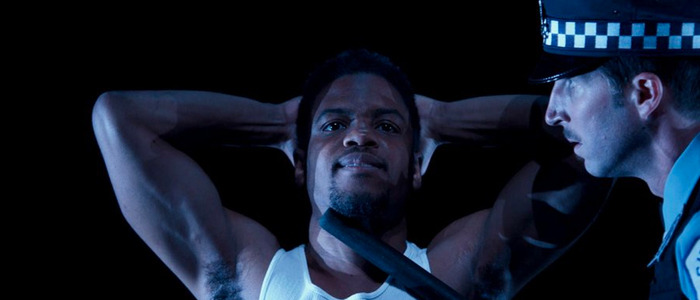 In late 2017, Spike Lee secretly filmed a performance of Antoinette Nwandu's play Pass Over at Chicago's Steppenwolf Theatre. Now, Lee brings the filmed play, a riff on Samuel Beckett's Waiting for Godot, to Amazon. Watch the Pass Over trailer below.
Antoinette Nwandu's play Pass Over updates Samuel Beckett's Waiting for Godot for a modern audience, telling a tale of "two young black men talking trash, passing the time, and dreaming of the promised land." In December of 2017, Spike Lee took a camera crew to Chicago's Steppenwolf Theatre and filmed a performance of the play. Now, Lee's filmed play is coming to Amazon Prime Video. In the trailer below, you see both the performance of the play and shots of the audience as they take it all in. While the filmed version of the performance is credited to Lee, the stage play itself was directed by Danya Taymor (niece of filmmaker Julie Taymor).
Pass Over Trailer
The film screened at this year's Sundance Film Festival, where it garnered positive reviews. "More powerful than its filmed-play format might suggest," wrote The Hollywood Reporter. "Spike Lee has found an innovative theatrical production and brought it to blistering cinematic life," said The Film Stage. "[B]y placing his cameras on stage with his actors (and in the house for sparingly used cutaways to the audience), Spike Lee has captured in Pass Over both the electrifying intimacy of actors deep in the moment and the communal power of live theater," said BirthMoviesDeath.
Like Waiting for Godot, Pass Over focuses on two men engaged in a lengthy conversation over the period of one aimless day. While filming a play might not seem like the most cinematic of ideas, the footage here looks engrossing and enveloping enough to draw the viewer in. It may not be as good as seeing the play live, but it might just be an excellent substitute.
Pass Over, starring John Michael Hill, Julian Parker, Ryan Hallahan and Blake DeLong, arrives on Amazon Prime Video on April 20, 2018.
Moses and Kitch, two young black men, chat their way through a long, aimless day on a Chicago street corner. Periodically ducking bullets and managing visits from a genial but ominous stranger and an overtly hostile police officer, Moses and Kitch rely on their banter to get them through a day that 

is a hopeless retread of every other day, even as they continue to dream of their deliverance.