'Incredibles 2' TV Spot: Mr. Incredible Keeps The Household In Check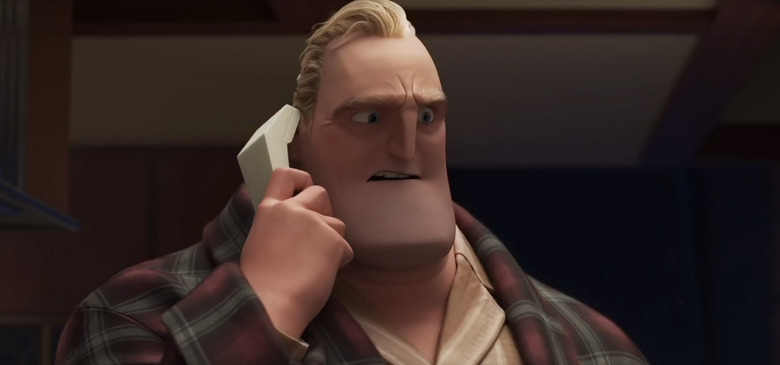 Hot on the heels of the announcement of a new LEGO video game featuring the superhero family from Pixar Animation, a new TV spot for Incredibles 2 has arrived with some fresh footage from the anticipated sequel arriving this summer.
Watch the Incredibles 2 TV Spot
This summer, the wait is over 💥👊 #Incredibles2 pic.twitter.com/imMOuEyoUo

— Disney•Pixar's Incredibles 2 (@TheIncredibles) March 29, 2018
There's not a ton of new footage here, but we get a different glimpse at the struggle Mr. Incredible (Craig T. Nelson) is going to have as he takes over the household while Elastigirl (Holly Hunter) is out doing superhero stuff. The original Pixar movie was about the superhero, real name Bob Parr, doing whatever it took to be able to support his family while also staying true to his superhero roots, albeit in secret. Now he has to do the same thing, but merely in a different manner.
Incredibles 2 may not look exactly like what some fans had anticipated from the animated superhero sequel, but honestly, I think this direction is even better. It keeps the story tied to the family struggles instead of focusing solely on the superhero side of things. Obviously, there will be plenty of superhero action, but we didn't need another straightforward superhero movie. This is something that's a little more grounded emotionally that still has some stylish superhero antics for us to enjoy.
Personally, I think what I'm most excited about is to see how Pixar's animation has advanced in the 14 years since the original movie was released. Yes, the characters look the same, but you can already see that the textures and environments look infinitely better than the original film. Hopefully, we'll be seeing more of that in the coming months leading up to the film's release.
You can find out more details about Incredibles 2 over here, but otherwise, read the official synopsis:
Helen (voice of Holly Hunter) is called on to lead a campaign to bring Supers back, while Bob (voice of Craig T. Nelson) navigates the day-to-day heroics of "normal" life at home with Violet (voice of Sarah Vowell), Dash (voice of Huck Milner) and baby Jack-Jack—whose superpowers are about to be discovered. Their mission is derailed, however, when a new villain emerges with a brilliant and dangerous plot that threatens everything. But the Parrs don't shy away from a challenge, especially with Frozone (voice of Samuel L. Jackson) by their side. That's what makes this family so Incredible.
Incredibles 2 arrives on June 15, 2018