'First Reformed' Trailer: Ethan Hawke Has A Troubling Crisis Of Faith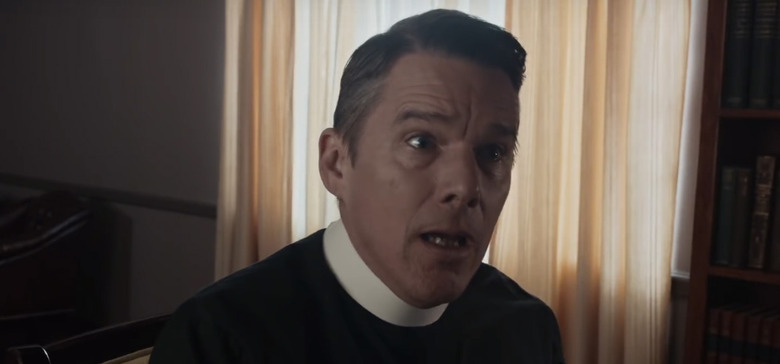 A24 has become one of those names that always has your attention. We sometimes don't hear about their movies much until the trailers start rolling in, and then we're totally on board. And that's exactly how we feel about their forthcoming release from Paul Schrader, best known for writing Taxi Driver and directing a slew of dark and often deranged thrillers.
First Reformed follows Ethan Hawke as a priest who is becoming more and more disillusioned with humanity as his congregation dwindles and the world around him becomes more and more troubling. The clergyman suddenly finds himself taking matters into his own hands as he grows impatient waiting for God to do something.
Watch the First Reformed Trailer
When A24 teased the arrival of today's trailer online yesterday, they touted it as a movie that "might be the unholy lovechild of A Ghost Story and Taxi Driver." We definitely get the Taxi Driver vibes from this trailer, but the elements that bring A Ghost Story to mind aren't quite so evident unless they're merely talking about the existential perspective that Ethan Hawke's character appears to be taking on as he becomes more concerned about civilization.
This certainly looks like it's going to be a haunting performance from Ethan Hawke, who has become one of the finest actors of his generation without much pomp and circumstance. Plus, even Cedric the Entertainer is getting deadly serious in his turn as a fellow preacher. If you don't believe me, he goes by the name Cedric Kyles to make sure you understand as much.
First Reformed will undoubtedly be a quiet, slow burn of a thriller, but I wouldn't expect anything less from Paul Schrader. It appears the visuals alone will be enough to keep the movie engaging, especially with shots like that Pepto Bismol swirling into a glass of whiskey. For those who aren't super pumped about the blockbuster fare coming in May, this should serve as perfect counter-programming.
Reverend Ernst Toller (Ethan Hawke) is a solitary, middle-aged parish pastor at a small Dutch Reform church in upstate New York on the cusp of celebrating its 250th anniversary. Once a stop on the Underground Railroad, the church is now a tourist attraction catering to a dwindling congregation, eclipsed by its nearby parent church, Abundant Life, with its state-of-the-art facilities and 5,000-strong flock. When a pregnant parishioner (Amanda Seyfried) asks Reverend Toller to counsel her husband, a radical environmentalist, the clergyman finds himself plunged into his own tormented past, and equally despairing future, until he finds redemption in an act of grandiose violence. From writer-director Paul Schrader (Taxi Driver; American Gigolo; Affliction) comes a gripping thriller about a crisis of faith that is at once personal, political, and planetary.
First Reformed hits theaters on May 18, 2018.