'Terminal' Trailer: Margot Robbie Is A Literal Femme Fatale In An Off-Kilter Neo-Noir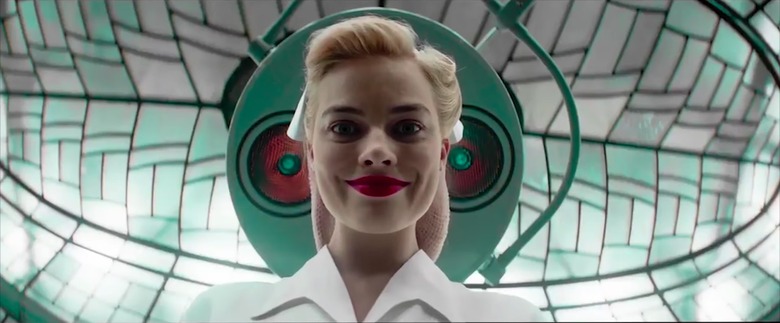 Margot Robbie will kill you. And you will probably thank her for it.
The Oscar nominee stars in Terminal, a bonkers neo-noir that is brimming to the edge with style. Directed by Vaughn Stein, the thriller follows two assassins on a mysterious mission in sinister city, where they run into all sorts of kooky characters, including Robbie's beguiling waitress who may or may not be a serial killer.
Terminal Trailer
While the previous Terminal teaser promised an alluring Dark City-style noir, the full Terminal trailer is a little more unhinged than that. The frantic pacing and campy costumes seem more along the lines of a Terry Gilliam film — aided by Robbie's absolutely terrifying performance as a waitress who moonlights as a serial killer.
The plot seems pretty threadbare compared to the film's non-stop eclectic visuals. The anonymous city which provides the setting for Terminal is consistently drenched in neon, while Robbie dons a slew of elaborate wigs and costumes. Then there's Mike Myers in heavy prosthetics, Simon Pegg sporting a scraggly beard, and Mac Irons and Dexter Fletcher as the two main assassins.
A lot happens in this somewhat messy trailer, and I can't really tell you what exactly it's about. There seems to be a lot of style and not a lot of substance, but hey, I would watch Margot Robbie paint a door. So watching her kill several men while dressed as a dominatrix doesn't sound half bad.
Here is the latest Terminal synopsis:
In the dark heart of a sprawling, anonymous city, Terminal follows the twisting tales of two assassins carrying out a sinister mission, a teacher battling a fatal illness, an enigmatic janitor and a curious waitress leading a dangerous double life. Murderous consequences unravel in the dead of night as their lives all intertwine at the hands of a mysterious criminal mastermind hell-bent on revenge.
Terminal is set to arrive in theaters on May 11, 2018.