Now Stream This: One Of 2017's Most Underrated Films, Early Scorsese, A Cult Documentary, And More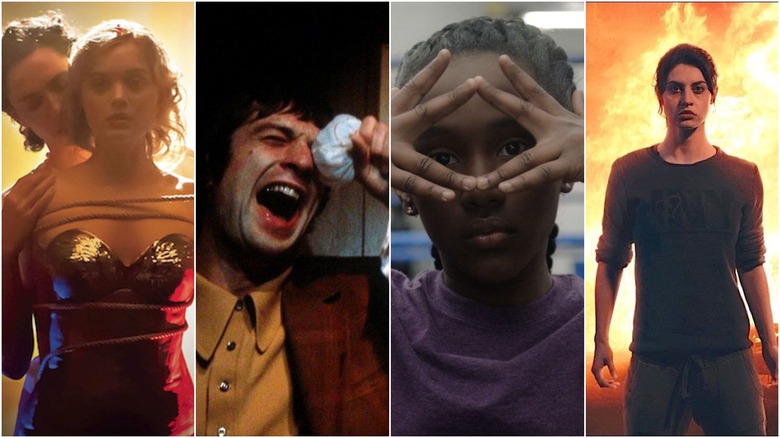 (Welcome to Now Stream This, a column dedicated to the best movies streaming on Netflix, Amazon, Hulu, and every other streaming service out there.) 
Looking for something to stream? You're in luck! I just happened to compile a list of 10 great movies you can stream right now! Here you'll find one of 2017's most underrated films; an early Martin Scorsese classic; a unique coming-of-age drama; a melancholy musical; two vastly different documentaries; one of Spike Lee's most commercial (yet still excellent) films; a German action-horror film; and one nasty slasher movie.
These are the best movies streaming right now. Let's get streaming.
The Best Movies Streaming Right Now
1. Professor Marston and the Wonder Women
Now Streaming on Hulu
Release Date: 2017Genre: Biographical DramaDirector: Angela RobinsonCast: Luke Evans, Rebecca Hall, Bella HeathcoteProfessor Marston and the Wonder Women, one of last year's most underrated films, is finally available to stream. That means you no longer have an excuse to avoid it (...unless you don't have Hulu). Angela Robinson directs this funny, sexy, surprising film about the people who helped create Wonder Woman. Luke Evans is Professor William Marston, a college professor and the creator of the lie detector. Rebecca Hall is his wife and teaching partner Elizabeth. Bella Heathcote is a student who becomes the Marston's assistant...and then becomes something much more. The three enter into a loving polyamorous relationship – something that doesn't go over too well with other people of the era. Over the course of their relationship, William invents Wonder Woman, with a little inspiration from the two women in his life. What easily could've been a by-the-numbers biopic is instead a truly lovely film. And did I mention it's sexy as hell? Everyone is good here, but Rebecca Hall, one of the best actresses working right now, is truly dynamite. Hall has to balance her affection for her two lovers against the fears of being discovered by a judging society, and nails it.For fans of: Wonder Woman, Kinsey, The Dreamers, Vicky Cristina Barcelona, a sexy good time.
Now Streaming on FilmStruck
Release Date: 1973Genre: Crime DramaDirector: Martin ScorseseCast: Robert De Niro, Harvey Keitel, David Proval, Amy Robinson, Richard Romanus, Cesare DanovaMean Streets wasn't Martin Scorsese's first movie, but it was the movie that put him on the map. With kinetic energy and whip-crack filmmaking, Scorsese turned the neighborhood of his youth into a brutal, engrossing crime drama. Loaded with bursts of brutality and a whole lot of Catholic guilt, Mean Streets follows Charlie (Harvey Keitel), a young man who wants to be good but is pulled towards a criminal lifestyle by his loan shark uncle, and his pain-in-the-ass best friend Johnny Boy (a very young, very wild Robert De Niro). "I wanted to make an anthropological study: It was about myself and my friends," Scorsese said of Mean Streets. "I figured even if it was on a shelf some years later, people would take it and see that's what Italian Americans — not the godfather, not big bosses — lived like on the everyday scale. This is what they really talked like and looked like and what they did. This was the lifestyle."For fans of: Who's That Knocking at My Door, GoodFellas, Taxi Driver, holding your hand over a prayer candle.
Now Streaming On Netflix
Release Date: 2018Genre: Documentary SeriesDirector: Maclain Way and Chapman WayCast: Ma Anand Sheela, George Meredith
In the 1980s, spiritual teacher Bhagwan Shree Rajneesh and his Rajneeshpuram followers purchased a huge tract of land in Oregon. There, they set up their own fully-functioning city, and while they projected an air of politeness, the locals didn't take very well to these weird outsiders coming in and turning things upside down. Meanwhile, within the sect (or cult, as most people call it), sinister forces were at work, plotting crimes that ranged from poisoning to attempted murder. Netflix's addictive docu-series Wild Wild Country chronicles this wild, wild story in fascinating detail. What makes the series so interesting is the way your allegiances change from one moment to the next. First, you'll find yourself sympathizing with the Rajneesh's followers as they're cruelly ostracized by the bigoted townspeople. Then, you'll realize that many of the Rajneesh's followers are up to nefarious things, so maybe you shouldn't have so much sympathy with them after all. There's no real black and white here – only gray areas
For fans of: Making a Murderer, The Keepers, Going Clear: Scientology and the Prison of Belief, all-burgundy clothes.
Now Streaming on Amazon Prime Video
Release Date: 2015Genre: Coming-Of-Age DramaDirector: Anna Rose HolmerCast: Royalty Hightower, Alexis Neblett, Da'Sean Minor, Lauren Gibson, Makyla Burnam, Inayah Rodgers, Antonio A. B. Grant Jr.
Few feature film directorial debuts are as electric as Anna Rose Holmer's The Fits. Royalty Hightower, who does so much with so little words, is Toni, a 11-year-old who trains as a boxer at her local rec center. One day, she finds herself transfixed by the Lionesses — a trope of young female dancers who also train at the rec center, and move in a furious progression that puts any boxer's jab and hook to shame. Toni joins the Lionesses, and then things start to grow very strange. One by one, girls on the team begin being overcome with strange, unsettling fits — their eyes roll back in their head, their bodies convulse, they writhe and collapse to the ground. At a tight 72 minutes, Holmer unfolds The Fits with precision, letting Hightower carry the film on her small shoulders. The Fits is a coming-of-age film unlike few others, and the last five minutes are tailor-made to make your jaw drop.
For fans of: Mustang, Tomboy, Water Lilies, It Follows, hot sauce.
Now Streaming on Netflix
Release Date: 2005Genre: Crime ThrillerDirector: Spike LeeCast: Denzel Washington, Clive Owen, Jodie Foster, Christopher Plummer, Willem Dafoe, Chiwetel EjioforInside Man may be Spike Lee's most commercial film, but that doesn't mean it isn't a hell of watch. A maddeningly clever heist movie, Inside Man features Clive Owen as the leader of a team of bank robbers. Owen and his gang have taken hostages at a New York City bank, and cop Denzel Washington has arrived to try to defuse the situation. But almost nothing goes the way it should – yet at the same time, everything is going according to plan. The film's script, courtesy of Russell Gewirtz, is full of sharp twists and turns that never seem forced and almost always pay off. Plus, the film is peppered with great performances from seasoned pros, including Christopher Plummer, Willem Dafoe, and a scene-stealing Jodie Foster.For fans of: Dog Day Afternoon, Quick Change, The Town, movie titles that are secretly puns.
Now Streaming on Amazon
Release Date: 2017Genre: Indie HorrorDirector: Ana AsensioCast: Ana Asensio, Natasha Romanova, David Little, Nicholas Tucci, Larry Fessenden, Caprice Benedetti
Someone give Ana Asensio all the money and let her make all the movies. Asensio makes her directorial debut and stars in Most Beautiful Island, a tense, weird, anxiety-inducing indie horror flick. Asensio is Luciana, an undocumented immigrant just trying to make it in an increasingly hostile New York. An acquaintance turns Luciana on to a gig that offers a massive payday. The details are sketchy, but the cash is too good to pass up. So Luciana heads out into the New York night, and soon finds herself in a highly disturbing situation. Asensio has an amazing grasp on how to create tension and convey an overtly eerie vibe. There are scenes in this film where nothing creepy is actually happening, and yet you can't help but feel like something is going to go very wrong, very quickly. I want more movies from Ana Asensio, and I want them immediately.
For fans of: The Transfiguration, Habit, Good Time, creepy crawly things.
7. Tales of the Grim Sleeper
Now Streaming on Hulu
Release Date: 2015Genre: DocumentaryDirector: Nick BroomfieldCast: Nick BroomfieldNick Broomfield's low-tech documentary Tales of the Grim Sleeper can be classified as a True Crime story. But it doesn't so much investigate the details of a crime, but rather the correlating events that unfolded around the it. Or in this case, crimes – for an on-again/off-again period of 25 years, South Central Los Angeles resident Lonnie Franklin Jr. allegedly killed over 100 women, earning him the nefarious nickname The Grim Sleeper. Broomfield's doc points its camera not at Franklin, but at the culture and the indifference of the Los Angeles police force that enabled Franklin's supposed long-unobstructed reign of terror. Because the Grim Sleeper's victims were minorities and lower-class women, the police mostly turned a blind eye, not seeming to care that these lives were being snuffed out. The result is a gripping, often infuriating film.For fans of: The Jinx, 13th, The Thin Blue Line.
Now Streaming on Shudder
Release Date: 2017Genre: German Action-HorrorDirector:  Stefan RuzowitzkyCast: Violetta Schurawlow, Tobias Moretti, Robert Palfrader, Sammy Sheik, Friedrich von Thun, Murathan MusluCold Hell is one cool god damn movie. Part serial killer thriller, part ass-kicking action flick, the biggest takeaway from this flick is that Violetta Schurawlow deserves to be a star. Schurawlow is a cab driver who witnesses a murder. That's bad enough as it is, but unfortunately, the murderer witnesses her, and now he's out to shut her up. What unfolds is a game of cat-and-mouse, with Schurawlow fighting for her life. There's a lengthy, heart-pounding sequence in the middle of this film, in which the killer tries to stab Schurawlow in her cab as she drives wildly around the city, that puts most Hollywood action movies to shame.For fans of: The Girl with the Dragon Tattoo (both versions), The Raid, I Saw the Devil, foreign films that will inevitably get an unnecessary remake.
Now Streaming on FilmStruck
Release Date: 1981Genre: Dark, Depressing MusicalDirector: Herbert RossCast: Steve Martin, Bernadette Peters, Christopher Walken, Jessica Harper, Vernel Bagneris
Most musicals are happy affairs – or at least end on a happy note. Herbert Ross' Pennies from Heaven, adapted from a 1978 BBC television drama, is the opposite. Steve Martin is a down-on-his-luck sheet music salesman in the 1930s. His life and his marriage (to Phantom of the Paradise and Suspiria star Jessica Harper) are falling apart, and soon he has an affair with a school teacher. The teacher (Bernadette Peters) gets pregnant – just in time for Martin's character to leave her and return to his wife. With nowhere left to turn, Peters' character turns to a pimp (Christopher Walken, in a scene-stealing role). Things just get more desperate from there. Through it all, the characters lip-sync to songs from the 1920s and 1930s. This is an often strange, melancholy film, featuring stunning photography from Godfather cinematographer from Gordon Willis.
For fans of: Dancer in the Dark, The Umbrellas of Cherbourg, Little Shop of Horrors, Christopher Walken dancing.
Now Streaming on Shudder
Release Date: 1981Genre: Grungy HorrorDirector: Joseph ZitoCast: Vicky Dawson, Farley Granger, Lawrence Tierney, Christopher Goutman
Few slasher films are as grungy and nasty as this 1981 gem from Friday the 13th: The Final Chapter (the best Friday sequel) director Joseph Zito. Filmed in beautiful beach town Cape May, New Jersey (boring personal trivia alert: I used to vacation there with my family as a kid!), The Prowler tells the tale of a serial killer clad in World War II U.S. Army fatigues, offing young people who dare to cross his path. The plot is so-so, but what makes The Prowler truly special are the nasty make-up effects courtesy of master gore-maker Tom Savini.
For fans of: Maniac, Friday the 13th: The Final Chapter, Sleepaway Camp, murders by the sea.