'Cobra Kai' Marketing Kicks Into Gear, "Vandalized" Billboard Appears In L.A.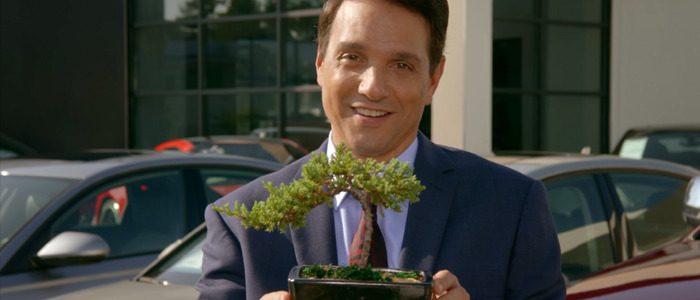 Daniel LaRusso may have been an underdog in 1984's The Karate Kid, but three decades later, the character has become a car dealer content with rehashing his glory days. How's that for a character shift?
Cobra Kai, the upcoming YouTube Red series that serves as a continuation of the Karate Kid franchise, is set to premiere soon, and following the release of a full trailer last week, the Cobra Kai marketing blitz continues. YouTube has unveiled a fictional TV commercial for the "LaRusso Auto Group," as well as a "vandalized" billboard in the L.A. area promoting the show.
New Cobra Kai Marketing
First, take a gander at Karate Kid star Ralph Macchio reprising his role as Daniel LaRusso in this fake car dealership commercial. It's a fun, airy piece of viral marketing, but the implication it carries for the show is an odd one. It's clear they're going after the "washed up athlete" vibe with this, but in the real world, those athletes are normally people who have some actual name recognition among the residents. Are we really meant to believe that people in the show's version of L.A. breathlessly followed the All Valley Karate Tournament more than 30 years prior – and remember who won?
Meanwhile, Jon Hurwitz, one of the show's co-creators, shared this photo of a Los Angeles billboard for the LaRusso Auto Group that's been "vandalized" with the phrase "Cobra Kai Never Dies":
Spotted on the ride home from Venice tonight. WTF, @WilliamZabka!?! How are we supposed to explain this to @ralphmacchio? pic.twitter.com/vZVcDVrkS2

— Jon Hurwitz (@jonhurwitz) March 28, 2018
I was curious how far the rabbit hole went on this, so I actually texted the word "DEAL" to the number listed on the billboard thinking it might result in something cool or interesting. Sadly, it's just a .gif response of LaRusso saying "Bonsai" from the trailer, accompanying text that reads "We are the 'car'ate experts! The best deals are only a tap away," and a link to the most recent trailer.
Still, this show actually looks like it has a shot at being good – or at least an interesting continuation of a cinematic saga that lionized its hero at every opportunity and demonized its villain. Now that the tables are turned, could Cobra Kai be an unexpected success?
In the highly-anticipated return of two iconic characters, the arch-rivals from the legendary Karate Kid film series reunite over 30 years after the events of the 1984 All Valley Karate Tournament. Now living in the affluent hills of Encino, Daniel LaRusso (Ralph Macchio) leads an enviable life with his beautiful family, while running a successful string of car dealerships throughout the valley. Meanwhile, his high school adversary, Johnny Lawrence (William Zabka), whose life has taken a rocky turn, seeks redemption by reopening the infamous Cobra Kai karate dojo. Their lives inevitably become intertwined and the rivalry is reignited, setting forth the next generation of "karate kids" in COBRA KAI, a YouTube Red Original Series. COBRA KAI is produced by Overbrook Entertainment in association with Sony Pictures Television.
All 10 episodes of Cobra Kai arrive on YouTube Red on May 2, 2018.