'Star Wars: The Last Jedi' Gag Reel: Watch Poe Get Slapped, Flubbed Lines, And More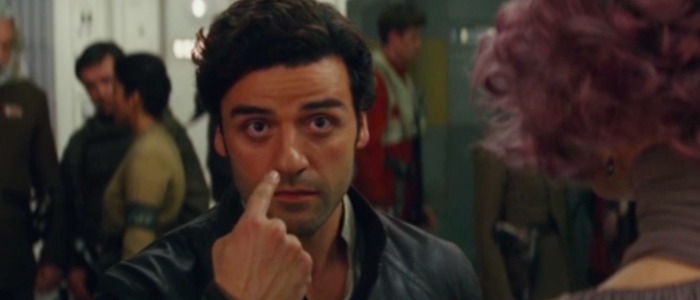 Star Wars: The Last Jedi has been available to buy on Digital HD platforms for a little while now, today marks the first time the latest film in the Star Wars saga is available to own on Blu-ray and DVD. To celebrate, Entertainment Tonight has released another peek at one of the film's bonus features: a gag reel that shows Oscar Isaac's Poe Dameron getting slapped repeatedly by Carrie Fisher's General Leia, actors making goofy faces on the set, and more.
Star Wars The Last Jedi Gag Reel
By my count, Fisher slapped Isaac in the face 41 times – and that's just what made the cut for this video. Writer/director Rian Johnson chimed in on Twitter to reveal that all this happened on Oscar Isaac's first day of work on the movie:
It was Oscar's first day. Somehow he still speaks to me. https://t.co/TlKkmKs8Fp

— Rian Johnson (@rianjohnson) March 27, 2018
Elsewhere, we get some fun bits with John Boyega's Finn and Kelly Marie Tran's Rose Tico, as Boyega flaps his arms like wings in the cockpit of the ship and the pair discover an even smaller version of BB-8 stowing away with them. (Baby-8?) Boyega has to stop a scene because he has "something hanging out of [his] bum" (an unfortunately placed microphone pack, maybe?), and Benicio Del Toro awkwardly fumbles a catch which his slick, morally questionable DJ would have made every time.
There are also plenty of entries in the "actors making goofy faces on set" subgenre to be found, which somehow makes these already-endearing people even more endearing, a feat I didn't think was possible. We know The Last Jedi was a difficult film to make, but it also looks like there were tons of opportunities to have some good old fashioned fun. There's also something strangely touching about Mark Hamill quipping "Thanks for the memories!" as he exits the cockpit of what appears to be an X-Wing while wearing his civilian clothes. It seems likely Hamill will return as Luke Skywalker in some form in J.J. Abrams' Star Wars: Episode 9, but on the off chance he doesn't, at least it looks like he managed to take things full circle by slipping back in that cockpit one more time.
Star Wars: The Last Jedi is available on Blu-ray, DVD, and Digital HD right now.