The Spielberg Vs. Carl's Jr. Feud Is Better Than The 'Ready Player One' Trailers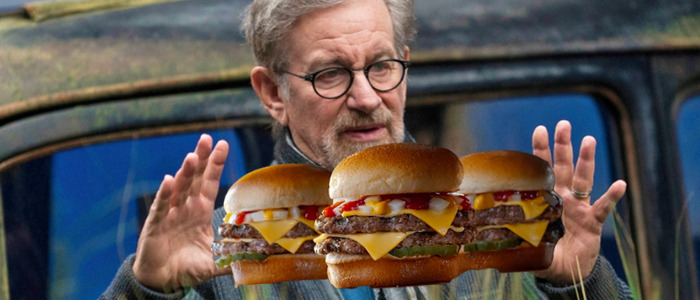 Steven Spielberg is engaged in a bloody, no holds barred feud with fast food burger joint Carl's Jr. over the term "SpielBurgers." Who will come out the victor – the director of Ready Player One, or a place that makes greasy burgers? Place your bets.
Alright let's just get this out of the way: there is no way this is a real feud. Steven Spielberg isn't really fighting with Carl's Jr., and is surely in on this whole thing. But it is my duty to report this story to you, the public. You're welcome.
To help promote the release of Ready Player One, the Carl's Jr. Twitter account has been going Spielberg-crazy. The fast food restaurant, which exists primarily in  Western and Southwestern United States and Canada, has decided to rebrand their Charbroiled Sliders as "SpielBurgers." They're so committed to this idea that they made a video.
They kept this going with even more tweets.
We're changing the name of our Charbroiled Sliders to #SpielBurgers. Coming soon! Well. As soon as we get approval from @StevenSpielberg #Spielburgershttps://t.co/v3aifyPwjU

— Carl's Jr. (@CarlsJr) March 26, 2018
Hmmm, no word from Spielberg yet. Sure hope he's cool with it. We pretty much spent our whole marketing budget on #SpielBurgers

— Carl's Jr. (@CarlsJr) March 26, 2018
Couldn't get in to see Steven, but we left a note on his car! Fingers crossed! #SpielBurgers pic.twitter.com/fEPbcf5EHE

— Carl's Jr. (@CarlsJr) March 27, 2018
After several hours of targeted harassment, the man himself – Big Steve, as I like to call him – decided to issue a statement. The burger name war is heating up, folks!
First: I love that Spielberg decided to film this video as a walk-and-talk, as if he was on the set of The West Wing. Second: I'm glad he took the time to say the full product name "Charbroiled Sliders". Third: hearing Spielberg say the phrase "SpielBurgers" is pretty funny.
But wait, there's more. It seems Carl's Jr. is a bit late on this whole "SpielBurgers" craze. In 2012, Steve Czarnecki trademarked "SpielBurgers" as part of a very elaborate April Fool's Joke. There was even a press release for the fake burger chain, which reads, in part:
The SPIELBURGERS motto, "Food You'll Phone Home About!" will hold true for the decadent hamburgers and assorted sandwiches the menu is built around. The menu offerings are just as entertaining as the movies that inspired their names. "The 'ET' is a veggie-burger, the 'American Tail' is a 4-cheese Angus burger. Want it Western style? Then order the 'Fievel Goes West'," says Kingman with a smile. "The 'Bruce' (named after the shark in Jaws) is a sandwich so large you'll need the jaws of a shark to consume it. We also have great side dishes and desserts. A 'Devil's Tower'-shaped mashed potato plate (Close Encounters) and the 'A.I.'ce Cream Sundae' (A.I.) round out a wide variety of choices for everyone's tastes."
Czarnecki even went through the trouble of making a website for the fake restaurant, and claims that Universal Pictures sent him a cease & desist letter, ordering that the website be shut down. Carl's Jr. better watch out.
I have to say that while this story is inherently silly, I've been more engrossed in the fake Spielberg/Carl's Jr. feud than I have been with the Ready Player One marketing. That's right – I've reached a point where I'd rather watch Spielberg fake-argue with a fast-food chain rather than devote time to Ready Player One. What a time to be alive.