Contest: Win A 'Legion' Mondo Poster And The First Season On Blu-Ray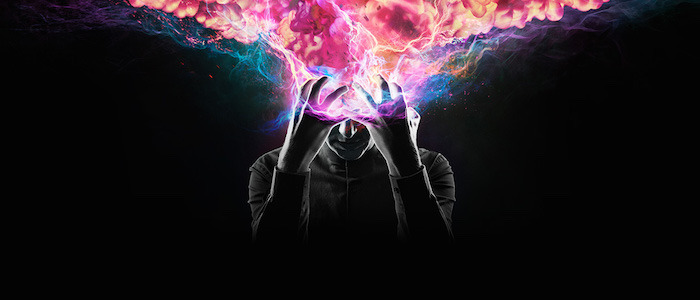 Even as superheroes clash on the big screen on a regular basis, you'll have to look to the small screen to find one of the best comic-book inspired tales out there. FX's Legion is a remarkable television show, using the world of the X-Men to explore identity and mental illness while also being a downright bonkers visual trip while also being one hell of a superhero adventure. If you haven't seen it, you're missing out.
And this may be the perfect opportunity for you to catch up. The first season of this awesome show is available on Blu-ray and DVD today, but we have three copies of the Blu-ray and three copies of a new poster created by Mondo to give away to three lucky readers. Here's how you can win.
Here's what you do (and we're keeping it simple): go to the comments section below this article and let us know what X-Men power you wish you had and how you would use it in real life. Three winners will be selected to receive the Blu-ray and the poster. We can only offer this to readers in the United States and Canada.
But now, check out the poster! The art is by Mondo regular Phantom City Creative and it depicts a vintage travel poster for Summerland, the mutant training facility and headquarters where Dan Stevens' David Haller finds refuge in the series. I love how gloriously and intentionally mundane this art is, which makes the one surreal note (the flying figure!) all the more outrageous.
We are giving away three copies of the "Day" version, which is very limited and already sold out on Mondo's site. The night version is still available for purchase at the time of this article's publication.
Here are the specs for both posters:
LEGION: VISIT SUMMERLAND (Night) by Phantom City Creative
24"x36" Screen Print, Edition of 200
Printed by D&L Screenprinting
$50
LEGION: VISIT SUMMERLAND (Day) by Phantom City Creative
24"x36" Screen Print, Edition of 200
Printed by D&L Screenprinting
$50
In addition to the poster, winner will receive the first season of Legion on Blu-ray. Each set will come with a copy of "The World's Angriest Boy in the World," an awesome souvenir for anyone who is already familiar with the mythology of the series.
Here's the complete list of special features included on the set:
Deleted Scenes
Fractured Reality: A Different Kind of Hero
Featurettes
Uncanny Romance
Production Design
Powers
Make-Up (Making the Devil with the Yellow Eyes)
Visual Effects
Costume Design
Location
If you aren't selected as one of the three winners, don't sweat. Legion season 1 is available for purchase right now on Blu-ray and DVD and fans of superhero tales and/or great TV should check it out.
Based on the based on the Marvel Comics by Chris Claremont and Bill Sienkiewicz and featuring a powerful, all-star cast — including DAN STEVENS, AUBREY PLAZA, JEAN SMART and RACHEL KELLER — "LEGION" follows the story of David Haller (STEVENS), a troubled young man who may be more than human. Diagnosed as schizophrenic as a child, David has been in and out of mental hospitals for years. Institutionalized once again, David spends his time with his chatterbox friend Lenny (PLAZA), a fellow patient whose life-long drug and alcohol addiction has done nothing to quell her boundless optimism that her luck is about to change.  But a startling encounter with a new patient (KELLER) forces David to confront the shocking possibility that the voices he hears and the visions he sees may actually be real. A haunted man, David escapes from the hospital and with the help of a nurturing but demanding therapist (SMART) and her team of specialists' unconventional methods, David embarks on an extraordinary journey of self-discovery that leads to a new world of possibilities...and a new level of unexpected danger.