'The House With A Clock In Its Walls' Trailer: Enter Jack Black And Cate Blanchett's Spooky House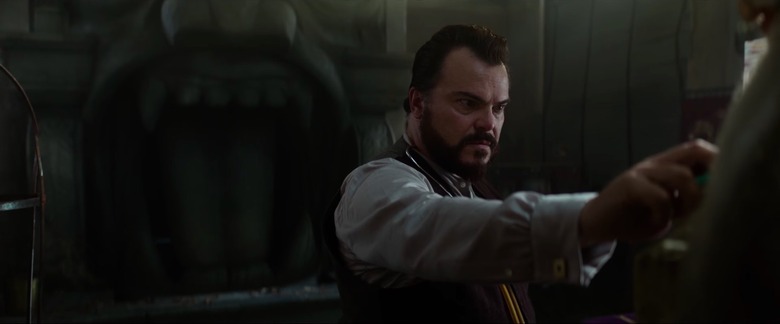 Who'd have thought it would be Death Wish director and horror maestro Eli Roth who would be reviving that good 'ol Steven Spielberg magic?
But he seems to be doing just that in the new fantasy-horror film The House with a Clock in Its Walls, an adaptation of a beloved, spine-tingling gothic children's novel. And based on the first The House with a Clock in Its Walls trailer, the movie is rife with fantastical elements, awe-inspiring effects, and delightfully witchy performances from Jack Black and Cate Blanchett.
The House with a Clock in Its Walls Trailer
"Can you hear the ticking?"
With that creepy, childish whisper, The House with a Clock in Its Walls trailer kicks off a bewitching fantasy story about a young orphan named Lewis Barnavelt (Owen Vaccaro) who moves into his eccentric uncle's (Black) home. But he finds more than just a few strange baubles and trinkets.
"Things are quite different here," Uncle Barnavelt genially warns Lewis.
But that's a bit of an understatement. Lewis finds a house that is a living, breathing being, with furniture, stained glass windows, and other elements coming to life before his eyes. And then there's that mysterious ticking sound at the center of the house. Not to mention Cate Blanchett's austere witch who lives next door.
Written by Supernatural creator Eric Kripke and based on the 1973 children's book by author John Bellairs and illustrator Edward Gorey, The House with a Clock in Its Walls looks and feels like a classic Spielberg adventure movie. That may be because it hails from Spielberg's longtime production company Amblin Entertainment, but it also feels like Roth taps into the childish wonder that Spielberg had mastered in movies like E.T. It also helps that both Black and Blanchett are well experienced in the family-friendly villain arena, skillfully straddling the line between campy and creepy.
The House with a Clock in Its Walls also stars Kyle McLachlan, Colleen Camp, Renée Elise Goldsberry, and newcomers Vanessa Anne Williams and Sunny Suljic.The House with a Clock in Its Walls hits theaters on September 21, 2018.
In the tradition of Amblin classics where fantastical events occur in the most unexpected places, Jack Black and two-time Academy Award® winner Cate Blanchett star in THE HOUSE WITH A CLOCK IN ITS WALLS, from Amblin Entertainment. The magical adventure tells the spine-tingling tale of 10-year-old L

ewis (Owen Vaccaro) who goes to live with his uncle in a creaky old house with a mysterious tick-tocking heart. But his new town's sleepy façade jolts to life with a secret world of warlocks and witches when Lewis accidentally awakens the dead.