Javier Bardem To Star In 'Cortes' Miniseries From Steven Spielberg And Amazon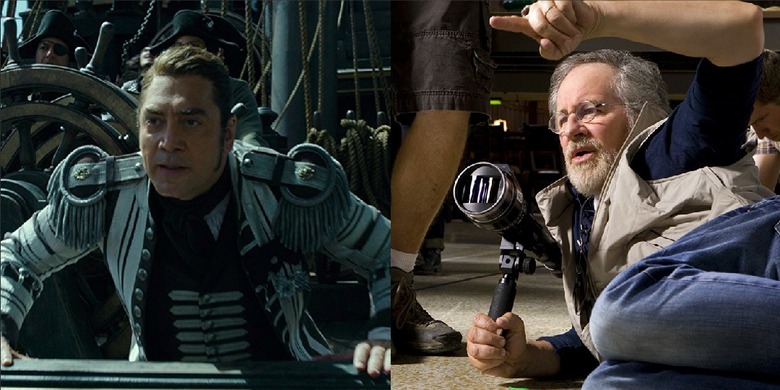 Nobody expects a Spanish conquistador miniseries.
But a miniseries about the legendary Spanish conquistador Hernán Cortés developed by Steven Spielberg will soon be sailing to a small screen near you. Amazon has greenlit a Cortes miniseries and tapped Oscar-winning actor Javier Bardem to play the titular conquistador.
Amazon Studios has made a straight-to-series order for the four-hour Cortes miniseries from Amblin Television and Steven Spielberg, The Tracking Board reports based on an initial report from Deadline.
Created and written by Steven Zaillian (Schindler's List), the Cortes miniseries will follow Hernán Cortes as he leads a "rebellious expedition" to King Montezuma II's Aztec empire. Cortes was famous for bringing about the fall of the Aztec Empire and leading the first phase of the colonization of the Americas by Spanish conquistadors.
Sharon Yguado, Amazon's head of scripted series, praised the A-list team behind the project, which Spielberg initially began developing as a potential feature film. Yguado said:
"Cortés' epic discoveries shaped the world as we know it today, and through the minds of Amblin, Steven Spielberg, Steve Zaillian and Javier Bardem, we will bring Prime Video members on an exhilarating journey. There are few moments in history that shape an entire culture such as Cortés' story, and this series will be one filled with drama and adventure."
The project is based off a long-gestating script by the late Dalton Trumbo. Trumbo originally wrote the script (then known as Montezuma) in the 1960s, a decade after he was blacklisted as part of the Hollywood Ten at the height of McCarthyism paranoia. Montezuma explored the relationship between Cortes and the Aztec emperor Montezuma and was originally planned as reunion between Trumbo and his Spartacus star Kirk Douglas.
Spielberg revived the project in 2014 at DreamWorks with the intention to direct a script by Zaillian. Bardem was also his first choice to star. Now, Bardem will executive produce the series alongside Amblin TV's Darryl Frank and Justin Falvey. Bardem said of the miniseries announcement:
"It is a privilege to tell this epic story— one that is full of drama and conflict within this huge, historical spectacle where two distant civilizations clash at the height of their reign. The best and worst of human nature came to life in all its light and darkness. As an actor, there is no better challenge than to serve such a unique project that I have been passionate about for years."
Bardem's casting finally brings the long stalled project back to life. An immensely talented and acclaimed star, Bardem lends the series even more credence, allowing Amazon to throw its full-fledged support behind it.