Joe Wright's Next Movie Is The Psychological Thriller 'The Woman In The Window'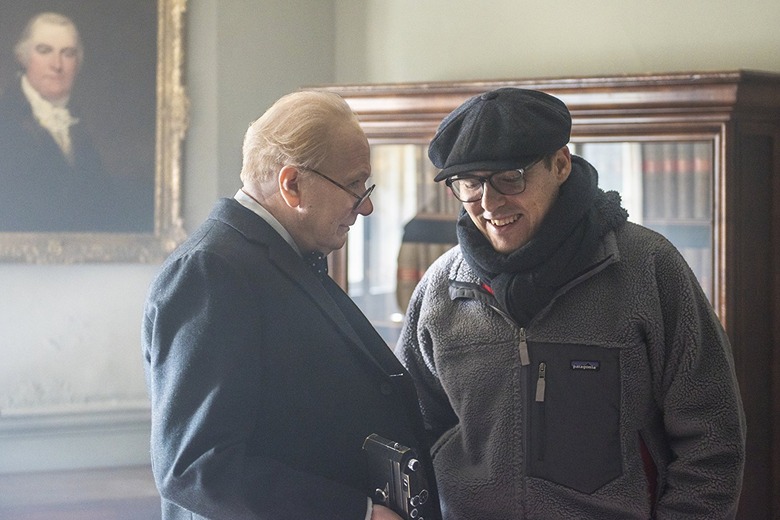 Fresh off his Oscar-nominated World War II movie Darkest Hour, Joe Wright has already found his next project. Wright is directing an adaptation of The Woman in the Window, a psychological thriller about a reclusive woman who witnesses something she shouldn't.
Joe Wright is directing the psychological thriller The Woman in the Window for Fox 2000, Variety reports. Tracy Letts (August: Osage County) will pen the script, while Scott Rudin (The Social Network) and Eli Bush (Lady Bird) are set to produce the picture.
Based off of A.J. Finn's bestselling novel that hit shelves this year, The Woman in the Window is a Hitchcockian thriller that follows the reclusive Dr. Anna Fox, who spends her time drinking wine and spying on her New York City neighbors. But one day she witnesses a shocking crime while watching the idyllic Russell family across the street, and her reality is sent spiraling out of control.
Here is the synopsis to the book:
Anna Fox lives alone—a recluse in her New York City home, unable to venture outside. She spends her day drinking wine (maybe too much), watching old movies, recalling happier times . . . and spying on her neighbors. Then the Russells move into the house across the way: a father, a mother, their teenage son. The perfect family. But when Anna, gazing out her window one night, sees something she shouldn't, her world begins to crumble—and its shocking secrets are laid bare.
What is real? What is imagined? Who is in danger? Who is in control? In this diabolically gripping thriller, no one—and nothing—is what it seems.
It shares a few traits with another New York Times bestseller about an alcoholic woman who witnesses a crime: The Girl on the Train. Unfortunately, The Girl on the Train's promises of being a Hitchcockian thriller came up empty — the book was better suited to a Lifetime movie than a theatrical release that wasted the talents of Emily Blunt and Rebecca Ferguson.
I haven't read The Woman in the Window, but its parallels to Girl on the Train — and its similar journey from New York Times bestseller list to screen — make me a little nervous that we'll get a messy domestic drama masquerding as a thriller. Hopefully, an award-winning director like Wright could elevate the material, though he's had a fair share of stinkers in his time. He may have directed my favorite adaptation of Pride and Prejudice (yes, it's my favorite, fight me!) but he still has a way to go before he makes up for Pan.