Gina Rodriguez Set To Steal Our Hearts As Carmen Sandiego In Netflix Live-Action Movie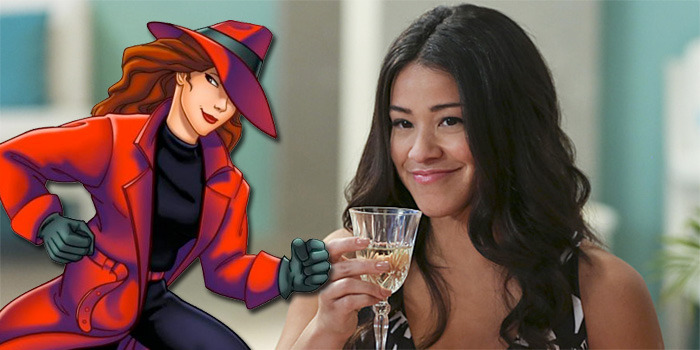 Where in the world is Carmen Sandiego? We're not sure right now, but soon, you'll find her on Netflix.
Netflix is developing a live-action Carmen Sandiego movie starring Annihilation and Jane the Virgin breakout star Gina Rodriguez. And Rodriguez will be doing more than donning the iconic red hat and trenchcoat of the criminal mastermind. Rodriguez will also be producing Netflix's adaptation of the educational computer game and TV show.
Gina Rodriguez is about to put the "miss" in misdemeanor as the star of Netflix's live-action adaptation of Where in the World is Carmen Sandiego, Deadline reports.
In addition starring in the title role, Rodriguez will produce the film through her I Can and I Will productions, alongside Kevin Misher and Caroline Fraser.
This feature film follows the news that Rodriguez would be voicing the beloved '90s character in a Netflix animated series set to premiere in 2019. The 20-episode series will explore Carmen Sandiego's origins before she becomes the criminal mastermind who evades capture while teaching you about geography. Netflix seemingly loved Rodriguez's work on the series so much that it ordered a full feature film starring the budding movie star.
It's the perfect project to further launch Rodriguez's rising star. Rodriguez gave a tour-de-force performance as the unhinged EMT in Annihilation, and she continues her ascent in Hollywood with the remake of Miss Bala, a crime thriller about a beauty pageant winner who witnesses a murder. And you all are probably sleeping on her delightful performance as the title character in Jane the Virgin, another magnificent CW show cursed with a terrible name.
The Carmen Sandiego feature film will likely follow the elusive international thief as she becomes notorious for stealing priceless artifacts from around the globe — but in a super educational way. She was introduced in a series of "mystery exploration" games that sought to teach kids about geography, but shot to popularity after the PBS children's geography game show Where in the World Is Carmen Sandiego? began airing in 1991 — probably thanks to the genius theme song by superstar a capella group, Rockapella.
Carmen Sandiego would receive several other TV show and comic book adaptations (and even a day dedicated to her!) but this will be the first feature film adaptation of the character. And you couldn't ask for a better performer to depict her than Rodriguez, who is a movie star just waiting for her big break. Or her next big heist.
No writer or director is yet attached to the movie. A release date or title has not yet been announced.