'Fear The Walking Dead' Season 4 Trailer: Morgan Jones Makes His Debut In The Spin-Off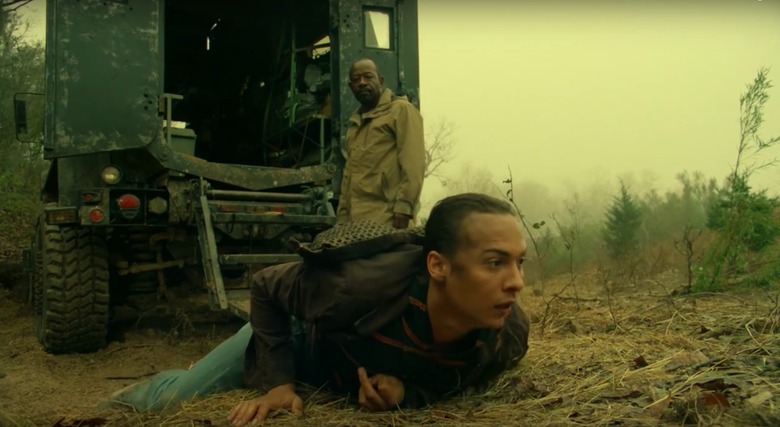 For a zombie show, you don't see a lot of characters return in The Walking Dead. Which is why it feels like a miracle to see fan-favorite Walking Dead character Morgan Jones cross over to the AMC spin-off, Fear the Walking Dead. Especially in a series that has a pretty poor track record with black characters.
Walking Dead star Lennie James was announced to make the jump to the spin-off last year, but it's still a pleasant surprise to see him show up in the first Fear the Walking Dead season 4 trailer.
Fear the Walking Dead Season 4 Trailer
Morgan Jones has been a recurring character in The Walking Dead since season 1, where he was the first living human that Rick Grimes met after he woke from his coma. Since then, Morgan has flitted in and out of the show — every one of his appearances a pleasant and mollifying surprise. Now, Morgan crosses over to Fear the Walking Dead.
The spin-off follows a different group of human survivors following the zombie outbreak, lead by tough matriarch Madison Clark (Kim Dickens) as she seeks to protect her teenage children from the perils of the world. And as the family, and production, moves to Austin, Texas, they run into a familiar Walking Dead face. But they're also joined by fresh faces including Dharma and Greg's Jenna Elfman.
Here is the official synopsis for Fear the Walking Dead:
In season four, we will see the world of Madison Clark (Kim Dickens) and her family through new eyes — the eyes of Morgan Jones (Lennie James), who is joining the story from the world of The Walking Dead. The characters' immediate pasts mix with an uncertain present of struggle and discovery as they meet new friends, foes and threats. They fight for each other, against each other and against a legion of the dead to somehow build an existence against the crushing pressure of lives coming apart. There will be darkness and light; terror and grace; and the heroic, mercenary and craven, all crashing together toward a new reality for Fear the Walking Dead.
Season 4 of Fear the Walking Dead premieres April 15, 2018 at 10 p.m. ET/PT in the highly anticipated crossover event. Subsequent episodes of Fear the Walking Dead will air at 9 p.m. ET/PT beginning Sunday, April 22.