Netflix Films Banned From Competing At The Cannes Film Festival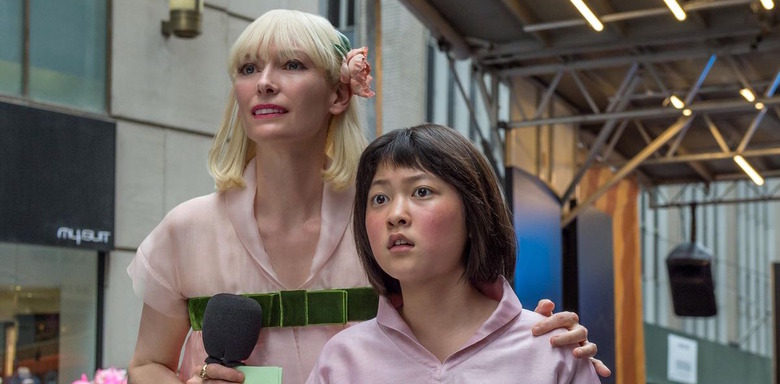 The French would gladly die for love, but apparently not for streaming services.
The Cannes Film Festival has officially banned Netflix from submitting films to future competition lineups. Now, Netflix joins the ranks of flats for women, selfies, and Lars Von Trier as some of the many things that the prestigious film festival has banned.
According to The Hollywood Reporter, Netflix and other streamers can show their films out of competition at Cannes, but they won't be eligible to win the Palme d'Or, the fest's prestigious top prize.
"Last year, when we selected these two films, I thought I could convince Netflix to release them in cinemas," Cannes festival head Theirry Fremaux said in an interview with Le Film Francais. "I was presumptuous, they refused."
Last year, Bong Joon-ho's Okja and Noah Baumbach's The Meyerowitz Stories were allowed in the Cannes competition despite only screening for day-and-date release in both theaters and streaming. This flouting of French law that mandates 36-month delay between a movie's theatrical release and streaming date "created an enormous controversy that has echoed around the globe," Fremaux remarked rather dramatically.
In response, Cannes changed its rules, requiring future competition films to commit to distribution in French movie theaters. Fremaux added:
"The Netflix people loved the red carpet and would like to be present with other films. But they understand that the intransigence of their own model is now the opposite of ours. We have to take into account the existence of these powerful new players: Amazon, Netflix and maybe soon Apple. We'll defend the image of a risk-prone festival, questioning the cinema, and we must be at the table every year."
Why Cannes and Netflix Clashed
The ban adds another twist to the heated feud between Cannes and Netflix that began last year. You may remember outrage among the certain festival-goers — even eliciting some boos during the screening of Okja. But it wasn't the streaming service or the films themselves (both of which received rave reviews at the festival) that stirred up controversy. It was Netflix's halfhearted adherence to French tradition.
For the 2017 festival, Netflix had tried to get temporary permits to screen the films for less than a week in France, allowing for a day-and-date release so the films could be seen in theaters and online at the same time. But that didn't fly with French filmmakers and unions, who condemned Netflix.
One of the many golden reactions came from  Christophe Tardieu, director of the National Cinema Center, who told the New York Times last year that Netflix is "the perfect representation of American cultural imperialism." Yes, really.
It's clear that Cannes sees itself as an exclusive hub for film, despite Fremaux's insistence that it's a "risk-prone festival." The festival is an archaic stickler for tradition — just look at its insistence that all women in attendance wear heels. And like Steven Spielberg, Cannes doesn't quite know what to make of a digital "disruptor" like Netflix.
Streaming services like Netflix and Amazon are "creating "hybrids" that aren't TV and aren't quite film, Fremaux insists. "The history of cinema and the history of the internet are two different things."
Or maybe the landscape of cinema is changing as we know it.