'Solo: A Star Wars Story' Villain Details Surface, Phil Lord & Chris Miller Credited As Executive Producers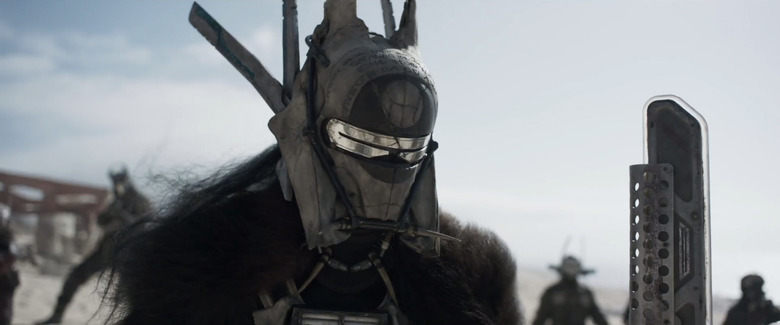 Even though we've gotten a full trailer and some interesting tidbits of information about Solo: A Star Wars Story, there is still plenty we don't know about the origin story for everyone's favorite smuggler and scoundrel. For example, we've been in the dark about who the film's antagonist will be for quite some time, even though we caught a glimpse of them in the first footage from the movie. Thankfully, some new details have emerged, including a name and a possible hint at a link to a vintage comic book storyline.
Meanwhile, behind the scenes, we've got an update as to how departed directors Phil Lord & Chris Miller will be credited on the movie they had mostly shot before Ron Howard took over the production and overhauled the project completely.
Phil Lord & Chris Miller Are Executive Producers
First and foremost, let's get this little tidbit out of the way. Variety revealed Phil Lord & Chris Miller were on-hand at the GLAS Animation Festival in Berkley, California recently, The duo discussed their work on the movie briefly, and Miller confirmed the credits they will receive on the film when it hits theaters in May:
"We were really proud of the many contributions we made to that film. In light of the creative differences, we elected to take an executive producer credit."
Kathleen Kennedy echoed the sentiments of creative differences on set around the time the trailer was released earlier this year. The Lucasfilm president previously said:
"Unfortunately, our vision and process weren't aligned with our partners on this project. We normally aren't fans of the phrase 'creative differences' but for once this cliché is true. We are really proud of the amazing and world-class work of our cast and crew."
You can read more about Kennedy's perspective on the removal of Phil Lord & Chris Miller as directors over here.
Solo A Star Wars Story Villain Details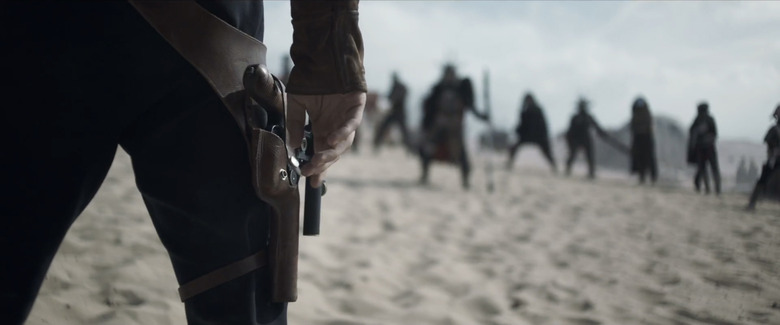 Fans have been waiting to learn more about the Solo A Star Wars Story villain since he was revealed in the first trailer, and it appears his name has finally been revealed thanks to leaks from the film's forthcoming merchandise.
Toys from Solo: A Star Wars Story will be hitting shelves imminently, and one of them is a playset featuring the villain and his trademark vehicle. The villain in question is named Enfys Nest, and he has a speeder that is called a swoop. Here's the official description from the toy packaging that surfaced on Reddit:
The Cloud-Rider gang led by Enfys Nest terrorizes the skies atop the mean-looking swoop bikes. Little more than engines with seats, swoops are hard to control but capable of incredible speed.
That might not mean anything to the more casual Star Wars fan, but those who read some of the Expanded Universe stories will immediately recognize the Cloud-Rider gang moniker. io9 dug into this revelation a bit more and explained where the Cloud-Riders come from:
"The Cloud-Riders came from the planet Aduba-3, and in the EU, were lead by a guy called Serji-X Arrogantus, which, lets be honest, beats "Enfys Nest" as a dumb-good Star Wars name hands down. They terrorized villagers on the planet so much that one of them hires Han Solo and Chewbacca to defeat the gang and protect Aduba-3's crops. Han and Chewie accept, putting together a motley crew of mercenaries who name themselves the Star-Hoppers to fight Serji-X and his men. Think Seven Samurai, but they were eight of them, and one of them was a giant green rabbit"
The story line comes from deep in Star Wars lore, the eighth issue of the Star Wars comic book series published in November of 1977. This was the first issue that started to expand the world of Star Wars outside of the storyline in A New Hope. It was the first original piece of storytelling to take place in the Star Wars universe. There's a chance this storyline won't be lifted from the comics, but it's interesting to see that yet another details from the Star Wars Legends stories is being brought into the new canon. Hopefully we'll have more details on Solo: A Star Wars Story soon.
Here is the official synopsis for Solo: A Star Wars Story:
Board the Millennium Falcon and journey to a galaxy far, far away in Solo: A Star Wars Story, an all-new adventure with the most beloved scoundrel in the galaxy. Through a series of daring escapades deep within a dark and dangerous criminal underworld, Han Solo meets his mighty future copilot Chewbacca and encounters the notorious gambler Lando Calrissian, in a journey that will set the course of one of the Star Wars saga's most unlikely heroes.
 Solo: A Star Wars story hits theaters on on May 25, 2018.