'Avengers: Infinity War' TV Spots & IMAX Featurette: It's Time To Put On Your Mean Faces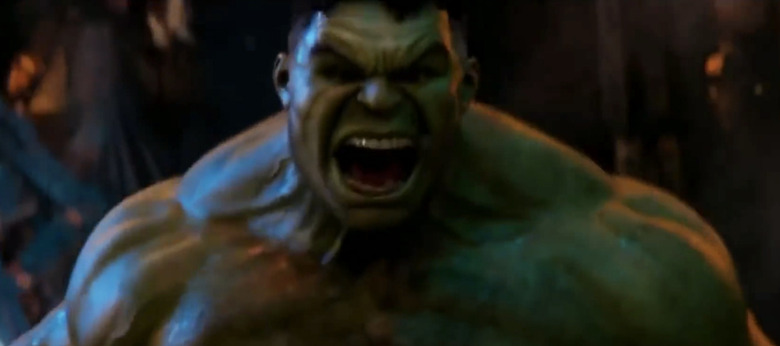 Avengers: Infinity War will be hitting theaters in a little over a month after Marvel Studios decided to bump up the release date by a week, shaking up the April release calendar. That means we're heading into the home stretch for the movie's marketing, so plenty of footage will be revealed in new TV spots playing all over the small screen, especially during the final week of March Madness, and we've got a couple of them for you to check out.
A pair of new Avengers Infinity War TV spots aired during the NCAA basketball tournament recently, and they've surfaced online. Each features some snippets of new footage, including a couple amusing moments featuring the Guardians of the Galaxy and your friendly neighborhood Spider-Man (Tom Holland). Plus, for those interested, IMAX has released a new featurette showing how the giant screen will be the best way to see Marvel's epic superhero sequel.
Avengers Infinity War TV Spots
This one is the more fun of the two new TV spots, featuring a quick quip from Star-Lord (Chris Pratt) as he's flying the new ship the Guardians of the Galaxy have after destroying their last one in their own sequel. Plus, Tony Stark (Robert Downey Jr.) quickly inducts Spider-Man into The Avengers after Peter Parker turned down the gig at the end of Spider-Man: Homecoming last year.
Meanwhile, this TV spot is much more somber and dramatic. There's a new shot of Vision (Paul Bettany) who looks scared and saddened at the same time, likely because he can feel that Thanos is getting closer, which won't be good news for the artificial being created by the power of the yellow Mind Stone. Is Vision going to come out this alive?
Avengers: Infinity War on IMAX
If you haven't bought your tickets for the earliest showing of Avengers: Infinity War yet, IMAX has touted a new featurette that should convince you to see the movie on the giant screen. In case you didn't know, Infinity War is the first movie to be shot entirely on IMAX cameras, meaning the film is made to be shown on a larger screen than the one you'll find at your usual movie theater. You can see the comparison above with the latest Infinity War trailer, and that should be enough
Honestly, you're going to need the biggest screen possible in order to fit in the massive cast, which includes Robert Downey Jr., Mark Ruffalo, Tom Hiddleston, Chris Evans, Chris Hemsworth, Jeremy Renner, Chris Pratt, Elizabeth Olsen, Sebastian Stan, Benedict Cumberbatch, Paul Bettany, Samuel L. Jackson, Chadwick Boseman, Cobie Smulders, Benedict Wong, Zoe Saldana, Karen Gillan, Vin Diesel, Dave Bautista, Pom Klementieff, Don Cheadle, Tom Holland, Bradley Cooper, and Anthony Mackie.
As the Avengers and their allies have continued to protect the world from threats too large for any one hero to handle, a new danger has emerged from the cosmic shadows: Thanos. A despot of intergalactic infamy, his goal is to collect all six Infinity Stones, artifacts of unimaginable power, and use them to inflict his twisted will on all of reality. Everything the Avengers have fought for has led up to this moment – the fate of Earth and existence itself has never been more uncertain.
Avengers: Infinity War arrives in theaters on April 27, 2018.