Marvel's 'Black Panther' Is Now The Highest Grossing Superhero Movie Ever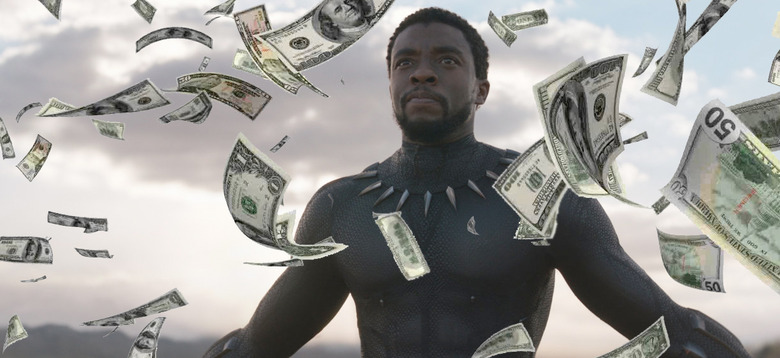 Marvel's Black Panther has become even more of a box office giant than any of the industry's wildest predictions and expectations. The film has broken record after record since hitting theaters on February 16, and now it has a new crowning achievement.
Even though Black Panther won't be at the top of the box office for six weekends in a row, the money raked in this weekend has sent the movie past $624 million on the domestic charts. That means Black Panther has officially surpassed The Avengers total gross of $623.4 million in 2012 and it's now the highest grossing superhero movie ever in the United States.
The box office update comes from The Hollywood Reporter. The trade also notes that Black Panther is doing huge business globally. As of now the movie has earned a little more than $1.2 billion worldwide, but by the end of the weekend, it will pass up Iron Man 3 to become the third biggest comic book adaptation. The only two movies ahead of it are The Avengers with $1.5 billion followed by Avengers: Age of Ultron at $1.4 billion.
As of now it doesn't look like Black Panther has enough momentum to surpass both assemblies of The Avengers at the global box office, but the amount of money the movie has pulled in is still impressive as hell. This should prove unequivocally that Hollywood can open up movies with predominantly non-white talent and still be succcessful at the box office.
However, Black Panther may not enjoy this spot at the top of the superhero movie charts for very long. Let's not forget that Avengers: Infinity War is just around the corner. And considering this is the first part of the culmination of the first 10 years of the Marvel Cinematic Universe, that's going to be quite the box office event. When tickets went on sale recently, the film broke the ticket presales record previously set by Black Panther in just six hours.
Again though, the success of Black Panther can't be marginalized. This was a huge victory for Marvel and diversity on the big screen. Hopefully this is just the beginning of more blockbusters featuring diverse casts that take the box office by storm. At the very least, we know it's just the beginning for Black Panther because a sequel is already in the works, and Ryan Coogler will likely return to direct as well.
Wakanda forever!